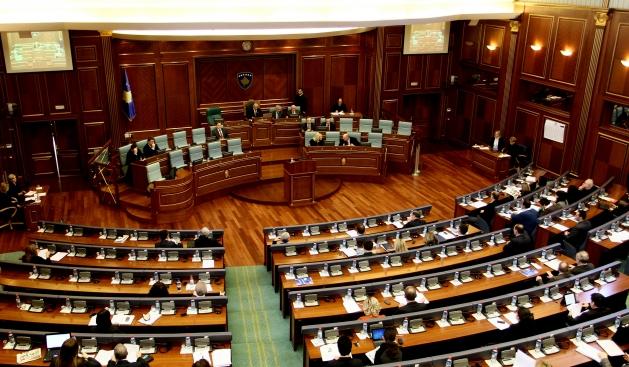 Pristina, 4 November 2015/Independent Balkan News Agency
By Elton Tota
Opposition parties in Kosovo will continue their action to stop the creation of the Association of Serb Communes and demarcation with Montenegro.
They do not see parliamentary elections as the necessary instrument to stop the Brussels' agreements, but instead, they will use other democratic mechanisms such as petitions, protests, etc.
The head of Self Determination parliamentary group, Glauk Konjufca says that the elections are not a priority to them.
"We are engaged in stopping the setting up of the Association and not allow any territories to be lost through demarcation with Montenegro. To us, this is the most important issue. However, Self Determination Movement Party is ready for elections at any time", Konjufca said.
The same opinion is also shared by head of AAK's parliamentary group, Donika Kadaj Bujupi, who reiterates that the agreements between Kosovo and Serbia must be cancelled.
"The annulment of the agreements brings us back to normality and not the elections", Kadaj Bujupi said.
Meanwhile, the head of PDK's parliamentary group, Adem Grabovci says that there will not be elections until 2018.
He says that there is no crisis or reason to ask for early elections, as according to him, the governing coalition is stable and is doing its job.
"We must take into account the interests of the state and the country. I don't see elections as a solution. The solution is for the opposition to assume its obligations. They must prepare their offer for voters and present it to voters", he said.
Meanwhile, analysts in Kosovo say that the solution of the crisis consists of dialogue between political leaders and compromise.
Analyst Nexhmendin Spahiu says that the only solution is to form a technical government with a 6 month or a yearlong mandate, which would include all parliamentary parties.
"An agreement between leaders is necessary to overcome the crisis, otherwise, there will be more conflicts between the government which is being arrogant with its numbers and the opposition which is being arrogant through the use of force".
Since the beginning of the autumn session, parliament in Kosovo has failed on holding a regular plenary meeting.
But  on 30 October and 2 November, two sessions were held, in which the Austrian President, Heinz Fischer addressed a speech and in the other session, MPs ratified the Stabilization and Association Agreement.
The same thing will take place on 6 November, as the EU Enlargement Commissioner, Johannes Hahn, will address to MPs. /ibna/