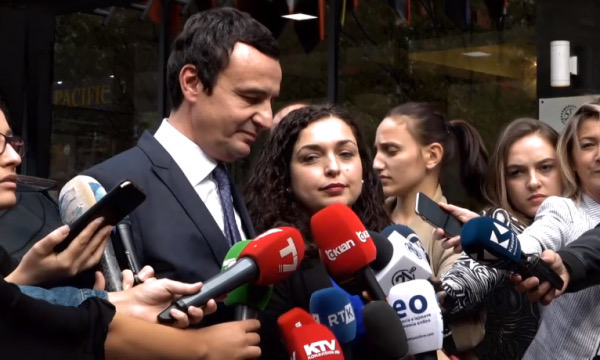 Albin Kurti, whose party the Vetevendosje won Sunday's election, met on Thursday the Democratic League of Kosovo (LDK) representatives, its leader Isa Mustafa and candidate for prime minister Vjosa Osmani, marking the official launch of negotiations on forming of a new government.
After the meeting, Kurti, who is candidate for prime minister with Vetevendosje, told the media that they have discussed with LDK modalities of reaching an agreement to form a coalition government. He said they agreed with the LDK to scrap the number of ministries and deputy ministers in the new Government. He also said they agreed with Osmani to have a Government respecting a 30 percent gender quota, adding that other details of the future Government are to be agreed in the coming days and that the two parties will create working groups to work on modalities of the government coalition.
The LDK candidate for prime minister, Vjosa Osmani, confirmed to the media after the meeting with Kurti that they have discussed the formation of a post-election coalition to form the new Government of the Republic of Kosovo. She said there is readiness from both parties to form a coalition and they are waiting for certification of the election results to confirm the deal.
"We have discussed only in principle. Both parties are willing to co-govern", Osmani stated, confirming that a future Government will have a reduced number of ministries. "It is up to the parties to discuss further details. We are waiting for the count of all votes before reaching a final agreement. There is willingness form both sides", Osmani stated./ibna