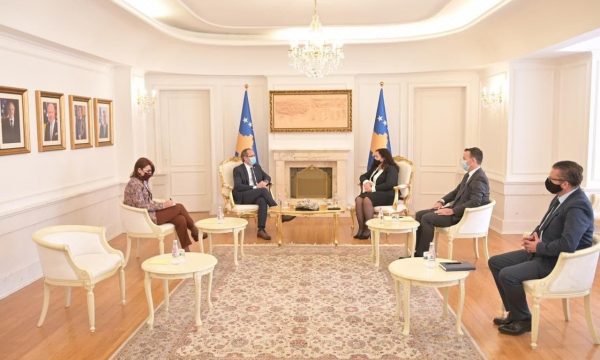 In her first meeting as vice president, Kosovo National Assembly Speaker Vjosa Osmani had made an urgent appeal to Prime Minister Avdullah Hoti.
At the November 9 meeting, Osmani urgently requested that Hoti submitted the proposals for the new ambassadors, following the deposition of some of them earlier this year.
Despite this request, the President's Office has yet to respond to the written appeal sent out to Hoti's Office, two days after the meeting.
Bekim Kupina, media adviser to Osmani, said that "so far, no documents have reached the Office of the President, neither the Foreign Ministry nor the Office of Prime Minister Hoti, in order to reconsider the appointment of the new ambassadors.
"Until now, the government has not presented to Vice President Osmani any single document/proposal related to the diplomatic service, despite the fact that the Deputy President requested that the proposals be sent urgently. The appeal was made to Prime Minister Avdullah Hoti at the first meeting on November 9, and the written request was sent to his office on November 11", Kupina clarified.
The Prime Minister's Office explained why they haven't responded to Osmani so far.
"Currently, a functional review of all diplomatic staff is underway and once this process is completed, the Office of the Prime Minister will send concrete proposals to the President's Office", the Office of the Prime Minister replied, however without giving a deadline.
The Foreign Ministry declined to comment on the matter, stating that the proposal for new ambassadors was ongoing and they would not be commenting on it before it is finalized.
Former President Hashim Thaci signed a decree in early October removing Ambassador Vlora Çitaku from her post in Kosovo's diplomatic mission to the United States, who was depositioned by former Foreign Minister Glauk Konjufca, along with other ambassadors to various countries of the world.
Although the Ministry of Foreign Affairs refrained from commenting on the process, it became known that a Consul General has been appointed in the consular mission in Prague. Flakron Shala is the son of AAK MP Haxhi Shala, who, according to a Koha report, was recently appointed to the post. /ibna