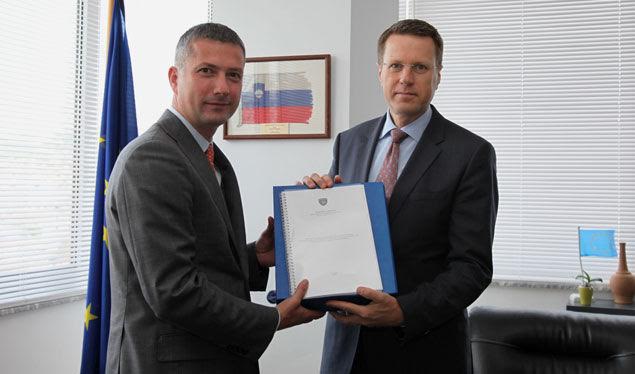 Pristina, 5 June 2015/Independent Balkan News Agency
By Elton Tota
Minister of European Integration, Bekim Collaku has delivered today the Report on the delivery of criteria in the framework of the process of the liberalization of visas, to the head of the EU Office in Kosovo, Samuel Zbogar.
Minister Collaku hopes that the European Commission will examine the report as soon as possible, in order to allow Kosovo to meet other goals.
"Our job has not ended here. We must apply all the legislation that is covered in the guideline. I'm hoping that the next steps of the European Commission and member states will be completed as soon as possible, in order to be closer to the day when citizens of Kosovo travel to the EU member countries without visas", he declared.
The obligations that stem from the guideline for visas are: security of documents, public security, management of borders, repatriation, fight against corruption and organized crime and principle of good neighboring relations.
Meanwhile, experts of European affairs say that the criteria imposed in the guideline are very difficult to be delivered.
They are hoping for EU institutions to take a political decision in order not to allow total isolation for the citizens of Kosovo.
Professor of European Law, Bardhyl Hasanpapaj told IBNA that Kosovo faces many problems in the process of the liberalization of visas, starting with the enormous corruption, organized crime, illegal migration and management of borders.
"There are similar problems in neighboring countries too, who now move freely in the Shenghen area. Their liberalization was like a gift from the European Commission. I believe that the same thing will also be done with Kosovo. Within a year, this state will receive the green light for the lifting of the visa regime toward the EU countries. This will be achieved based on a political decision of the European Union, because the delivery of the criteria demands at least one decade", says Hasanpapaj.
The same opinion is also shared by analyst and expert of European affairs, Llokman Murtezani. He says that the liberalization of visas for Kosovo will be approved at the end of next year.
"Kosovo has become an isolated island and this isolation may have consequences for the citizens of the country in the economic and social aspect. Meanwhile, this instability would also be reflected in the region and beyond", Murtezani says.
Meanwhile, Kosovo is the only country in the region, the citizens of which cannot move freely in the EU countries. /ibna/