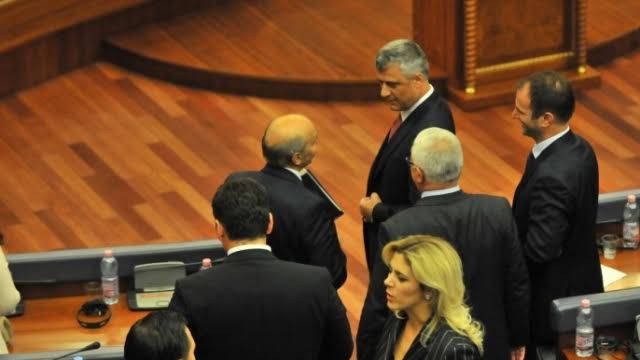 Pristina, 1 February 2016/Independent Balkan News Agency
By Elton Tota
Parliament of Kosovo is expected to proceed in February with the election of the new president of the country.
This was confirmed by the speaker of this institution, Kadri Veseli. Veseli said that he's convinced that there will not be complications in relation to the election of the leader of the Democratic Party of Kosovo in the post of the president, in spite of the objections of the opposition and of a part of the MPs of this party.
"We know that so far, we only have one nominee and he is Hashim Thaci. I believe that he will be elected president of the country and this process is not becoming complicate", Veseli said.
Deputy speaker of the parliament of Kosovo, Xhavit Haliti said that the governing coalition will vote Hashim Thaci for president.
"The opposition may not vote Thaci as president, but this will not prevent his election", he declared.
Hashim Thaci has also received the support of the leader of the Democratic League of Kosovo (LDK), Isa Mustafa.
But not all LDK MPs back Thaci's candidacy. There are around 6 or 7 of them who do not support him.
These MPs didn't even vote in favor of the creation of the government of Kosovo, as they didn't want their party to join PDK in a coalition.
LDK's MP, Adem Salihaj says that he would never back Thaci as president and would never support the governing coalition with PDK.
"I stick to my position that Hashim Thaci is not suitable as presidential candidate. He's a very political person, he has enemies within the opposition, majority and also civil society and media and it would not be a good thing for him to become president of Kosovo", Salihaj said.
LDK's lawmaker, Vjosa Osmani, is also one of those who doesn't support Thaci's candidacy. She says that the only way how to make it impossible for him to be elected is by not having a quorum in the first round of voting.
Opposition parties have also pledged that they will object to the election of Hashim Thaci as president.
Based on constitutional deadlines, the election of the new president must be done until the first week of March.
The president is elected by parliament. The first two rounds of voting require two thirds of the votes or a minimum of 80 votes, while the third round requires 61 votes. But, in order for the voting procedure to be initiated, a quorum is necessary, which means that two thirds of the MPs must be present.
The election of the next president of Kosovo is believed to be a challenge not only for the survival of the current governing coalition, but also for the preservation of the political stability in the country.