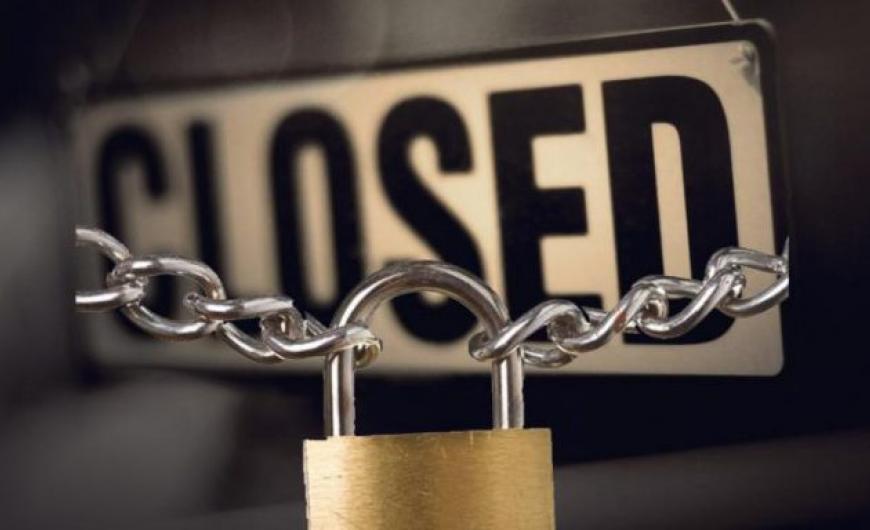 Kosovo's economy is going through the deepest crisis since the post-war period in which neither businessmen nor state institutions have ever faced these problems, with the COVID-19 pandemic being the main source of this crisis.
About 5,000 companies are expected to be locked up in Kosovo this year as a result of the COVID-19 pandemic.
So far, according to statistics from the Statistical Service, from April to June, 150 companies have officially closed, with an average of two companies closing daily.
However, these statistics are not realistic. According to the President of the Kosovo Business Alliance, Agim Shahini, in fact the number of closed enterprises is 10 times higher than the number mentioned by state bodies in their statistics.
"The statistics provided by state institutions are for those that have been officially closed and are 10 times less than those that have ceased their activities and do not generate revenue for the state for months", Shahini says.
According to him, the sectors that are shutting down due to the pandemic are mainly companies that deal with transport, catering, tourism, as well as processing and service companies.
The Business Alliance estimates that there will be a larger number of closed companies this year. Closing businesses in Kosovo is very difficult and many companies have closed their operations and have not followed the procedures to close it officially. Therefore, the Alliance estimates that if this trend continues by the end of the year, more than five thousand companies may have closed and this is very worrying for the country and the country's institutions, Agim Shahini stresses.
The Kosovo Chamber of Commerce is also very concerned about the continuing decline in the number of businesses, which is coming as a result of the growing difficulties of doing business in Kosovo.
"The Chamber of Commerce is concerned about the lack of immediate response of the country's institutions, according to how other European countries and countries in the region act. This situation has led to a reduction in the number of companies and an increase in unemployment, which is already extremely high compared to the number of working-age residents", said VET President Skender Krasniqi.
Krasniqi expressed great concern about the lack of reaction of the Parliament and the government, which, according to him, will cause more disaster than the global pandemic.
"VET has repeatedly called on both Parliament and the government to wake up from deep sleep and ignorance of the situation and to react quickly and according to the needs of businesses, otherwise the catastrophe will be huge", Krasniqi continued.
During the period April-June 2020, 146 businesses were closed, with the largest number being in the capital Pristina with 25, followed by Prizren with 22 companies closed, according to the Kosovo Statistical Report on Economic Operations for the second quarter, published by the Statistical Agency. Most of the companies that have suspended their work are engaged in wholesale and retail trade, repair of motor vehicles and motorcycles./ibna