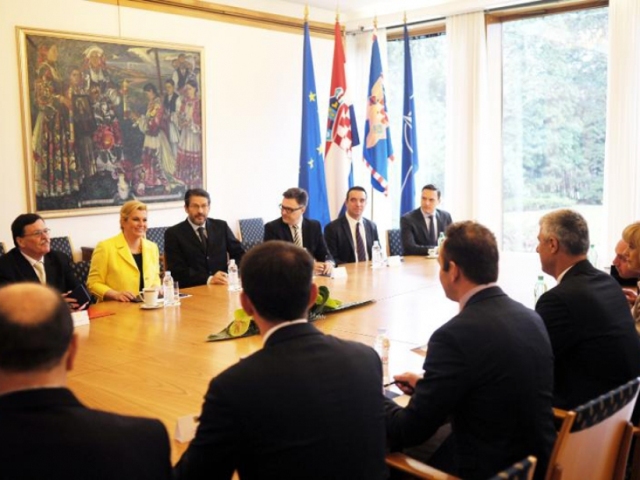 Pristina, April 8, 2015/Independent Balkan News Agency
By Elton Tota
Deputy PM and Foreign Minister of Kosovo, Hashim Thaci has had a meeting today with the president of Croatia, Kolinda Grabar-Kitarovic.
During this meeting, Thaci and Grabar-Kitarovic agreed that partnership between the two countries must be boosted and become strategic.
"Our two countries have excellent relations which are not only focused on a political level, but also in economy, education, culture and military", declared deputy PM Thaci.
President Grabar-Kitarovic promised the assistance of Croatia for the accession of Kosovo in international organizations.
"Croatia will offer the necessary support to Kosovo and we will work together in order to look into the possibility of Kosovo's accession in other institutions and organizations. We support the quick accession of the entire region in the NATO and EU", said president Grabar-Kitarovic.
Thaci thanked Croatia about the assistance given in this aspect.
"Your strong support in the United Nations, NATO, EU and regional organizations has contributed in strengthening international subjectivity of Kosovo", Thaci declared.
Grabar-Kitarovic mentioned the Croatian community in Kosovo and the Kosovar community in Croatia, as two bridges of cooperation between the two countries.
According to the recent statistics, Croatia has 17,513 Albanians living there and according to president Grabar-Kitarovic, they are an important asset for Croatian society.
After the meeting with the Croatian president, Thaci also met with the speaker of Parliament, Josip Leko. Mr. Leko said that Croatia has been and remains a strong promoter of the liberalization of visas and integration of Kosovo in the European Union.
"Our MPs in the European Parliament have upheld the issue of Kosovo. We will continue to be Kosovo's advocate in Brussels", said Mr. Leko.
Meanwhile, deputy PM Thaci said that Kosovo continues to strengthen its subjectivity in the international arena.
Since July 2013, Croatia is a full EU member country and its role for Kosovo is twice as important. Besides being an early strategic partner for Kosovo, Croatia has also become a country within the EU with policies that support the integration of Kosovo. /ibna