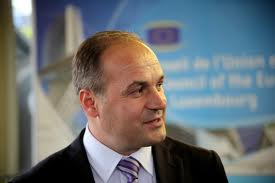 By Clive Leviev – Sawyer of The Sofia Globe
Kosovo can count on the support of Bulgaria when it applies to join the United Nations, Kosovo's foreign minister Enver Hoxhaj was told during a visit to Sofia.
Hoxhaj began a visit to the Bulgarian capital city on December 2, with meetings scheduled with the President, prime minister, foreign minister and deputy speaker of parliament.
"I am here as a friend of Bulgaria, because Kosovo's citizens are very gratetful to your country for your support right at the establishment of Kosovo," Hoxhaj said.
Kosovo unilaterally declared independence from Serbia in February 2008, a move rejected by Belgrade.
Kosovo has not yet mustered the minimum number of recognitions as an independent state required for membership of the UN, and the European Union remains "status-neutral" on the country because five EU states do not recognise Kosovo.
Bulgaria was among the first EU states to recognise Kosovo, causing a few weeks of tension in relations between Sofia and Belgrade.
At a joint news conference, Kristian Vigenin, foreign minister in the current Bulgarian Socialist Party government, expressed a positive view of the local elections in Kosovo, describing them as a further important step towards making Kosovo a country that could be more confident on its path to the EU.
For the first time, free and democratic elections were held in all Kosovo municipalities, which would enable Serbs to integrate into the institutions of northern Kosovo, he said.
At their December 2 meeting, the two foreign ministers signed a memorandum of co-operation on European and Euro-Atlantic integration. The memorandum provides for Bulgaria to share its experience in preparation for EU membership.
The two ministers agreed to accelerate work on the signing of an agreement on the avoidance of double taxation and on negotiating the entry into effect of an agreement on the international carriage of passengers and cargo.