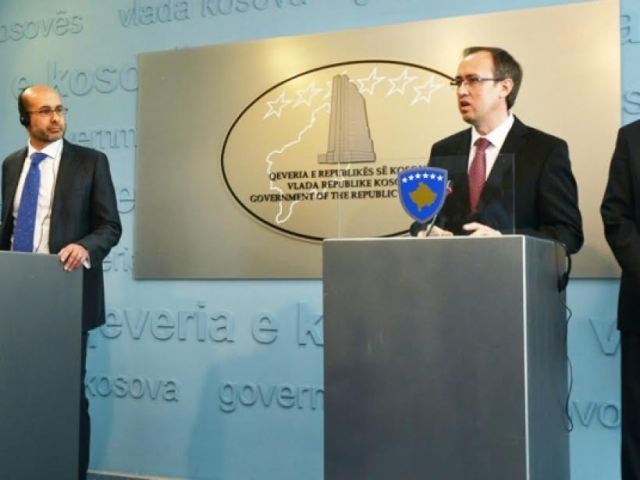 Pristina, 10 June 2015/Independent Balkan News Agency
By Elton Tota
Kosovo continues to increase its foreign debt in order to secure macro and micro economic stability.
Yesterday, the Ministry of Finance signed a deal with the International Monetary Fund amounting to 185 million Euros for the program of economic reforms.
The head of IMF to Kosovo, Jacques Minisane said that with this agreement, this institution wants to preserve the good developments in Kosovo.
"Kosovo doesn't have financial problems and it doesn't have debt problems. Therefore, the scope of this program is to preserve the positive things of the economy of Kosovo.
The minister of Finance, Avdullah Hoti was also happy with this agreement.
"This program addresses the needs that the state and economy of Kosovo have to offer development opportunities in the future", Hoti declared.
Minister Hoti said that Kosovo agreed with the IMF to review the budget at the end of 2015 and the 2016 budget, the law on salaries, budget structure on current expenses and capital and the implementation of the full electronic system of public procurement at the end of this year.
Bedri Hamza, governor of the Central Bank of Kosovo said that the agreement with the IMF will improve the legal basis for emergency financial reserves and will minimize the threats for the financial system of the country.
"The banking sector is well capitalized, liquid and with positive development trends. We have a growth of assets, growth of deposits, growth of loans and reduction of interest rates", Hamza says.
Meanwhile, experts of economic affairs told IBNA that Kosovo must not borrow any more on international financial institutions, as its economy is not performing well.
Economy professor, Abdulla Prebrenza told IBNA that the level of foreign debt must be in line with the level of economic development.
According to him, if Kosovo continues to increase its debt, it may no longer be able to pay it back, as it's the case with several countries of the eurozone.
"The fact that we have a low debt is a good thing, because it's not an indicator that we will increase this debt. I believe that the debt must remain low until the economy starts to perform well", he said.
Meanwhile expert of economic affairs, Shkelzen Dakaj told IBNA that Kosovo can increase foreign debt, if that capital is invested in projects that generate revenues.
"The money taken from IMF or World Bank must be used for innovative projects that generate revenues. This way, the economy will perform better and it would be easier to pay it back. We have Japan's model, the country which has an enormous growth of foreign debt, but its economic is excellent", Dakaj says.
Kosovo's foreign debt mainly consists on loans secured through agreements with the International Monetary Fund, World Bank, EBRD, etc. /ibna/