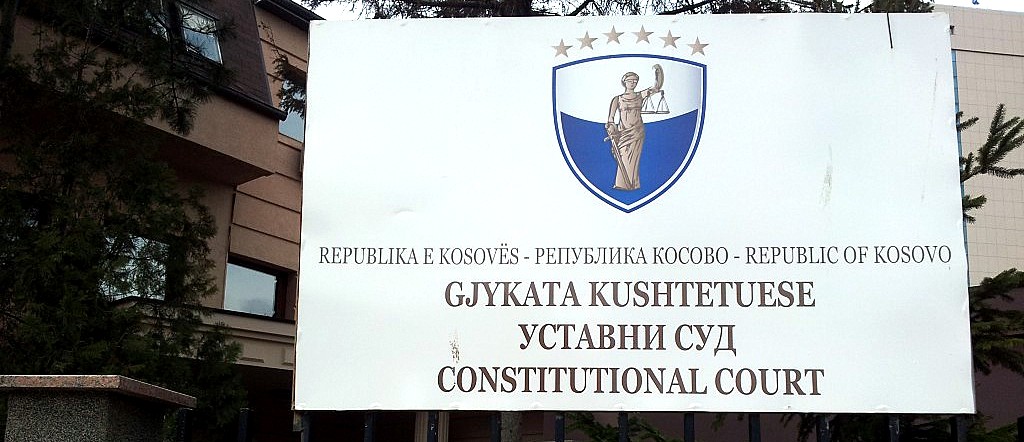 Kosovo's Constitutional Court has imposed a temporary freeze on a decision by Kosovo's president, who on Thursday called on LDK candidate Avdullah Hoti to form a new government.
The Constitutional Court imposed interim measures until 29 May 2020 on President Hashim Thaci's decree pending a final decision on whether his motion was in accordance with the Constitution or not. The court acted at the request of 30 lawmakers representing Vetevendosje, who challenged Thaci's decision, calling it unconstitutional.
The Court's ruling means that the LDK-centered coalition cannot proceed with the formation of a new government in Parliament without a decision of the Constitutional Court. The leader of the LDK parliamentary group, Arben Gashi, submitted a request to Kosovo's parliament on Thursday, calling for an urgent meeting on Saturday (May 2nd) with only one item on the agenda: a vote of confidence for Kosovo's new government.
President Thaci said in a Twitter post that he would respect the court's decision. "I have just been informed of the decision of the Constitutional Court of Kosovo on the process of forming the new government. As President of Kosovo, I fully respect this decision and I call on the institutions and political parties to do the same", Thaci wrote.
During a press conference on Thursday, President Thaci said he had instructed LDK candidate Avdullah Hoti to form a new government in an effort to create new institutions, following a vote of censure against Albin Kurti's government. Kurti's party, Vetevendosje, appealed to the Constitutional Court to impose a temporary measure until a final decision is made. The court's move has halted the LDK's plans to form a new government and will allow Kurti's cabinet to continue working until at least the end of May 2020.
Vetevendosje is calling for early elections as soon as the COVID-19 pandemic is over, in order for a legitimate government to be elected. Other parties, including the second-ranked party in the October 2019 elections – LDK, said during a meeting with President Thaci last week that they were in favor of a new coalition government formation without holding early elections. The LDK has reached an agreement with Ramush Haradinaj's alliance for the future of Kosovo (AAK) and Fatmir Limaj's Nisma to form the new government. The LDK also needs votes from the Serbian List, a political entity representing Kosovo Serbs, as well as votes from other non-Serb minorities represented in the Kosovo Parliament to form a majority. The main opposition party in parliament today – the Democratic Party of Kosovo (PDK) – said it would not vote in favor of the LDK government, but was ambivalent about its statements on holding new elections./ibna