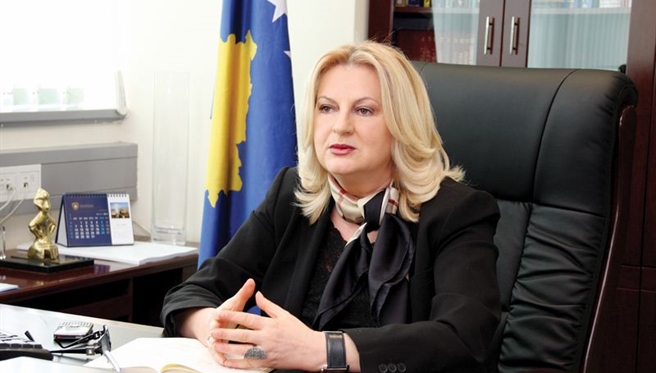 Pristina, 27 November 2015/Independent Balkan News Agency
By Elton Tota
The government of Kosovo has  submitted to the European Union office a short report on the progress and challenges in the implementation of the Brussels agreements this year, including the package of agreements endorsed on 25 August 2015.
The report signed by the minister of Dialogue, Edita Tahiri, presents the general process of the implementation of all agreements.
"The measuring of performance of the two countries Kosovo and Serbia, aims at offering a clear picture of the process that we have agreed during the dialogue brokered by the EU", the report says.
Based on this document, the agreements reached in the Brussels dialogue can be grouped in three main groups:
Agreements for bilateral cooperation between the two states such as the agreement on border management and technical protocol, regional collaboration and participation, freedom of movement, free trade/customs seals, energy, telecom, systematic exchange of electronic data in the customs, mutual recognition of university degrees, car insurance policies, of medical products certificates, mutual legal assistance, liaison offices and agreement on official visits.
Agreement for the normalization of the situation in the north of Kosovo-such as the one for the legal functioning in the four northern communes, police, justice, dismantlement of Civil Protection, law on amnesty, development fund, licensing of companies in the north, removal of barricades from the bridge in Mitrovica. These agreements aim at consolidating the system of Kosovo in the north of the country, integration of the Serbs of Kosovo and the removal of Serbia's parallel structures in Kosovo.
Agreements on war damages, such as the agreement of the return of Kosovo's civil registrar and cadastral data from Serbia, which Serbia took during the war in Kosovo.
Minister for Dialogue, Edita Tahiri says that the findings show that the agreements relating to group one and three have made more progress than those in group two.
"The agreements of group two have seen more progress, due to Serbia's failure to not implement them, delay them or breach them. All of these agreements demand the consolidation of the system of Kosovo in the northern part of the country and integration of the Serbs of Kosovo and the removal of Serb parallel structures in Kosovo", she said.
According to her, except for policing, where implementation has been made in full compliance with the Brussels Agreement, other domains have faced delays or unclear application.
Meanwhile, minister Tahiri also says that if Serb parallel structures are not dismantled, then the objectives of the dialogue may be mined.
She says that the creation  of the Association of Serb Communes will not happen without the dismantlement of parallel structures. In order for the process to see real progress, Tahiri says that Serbia must remove Kosovo from its Constitution. /ibna/