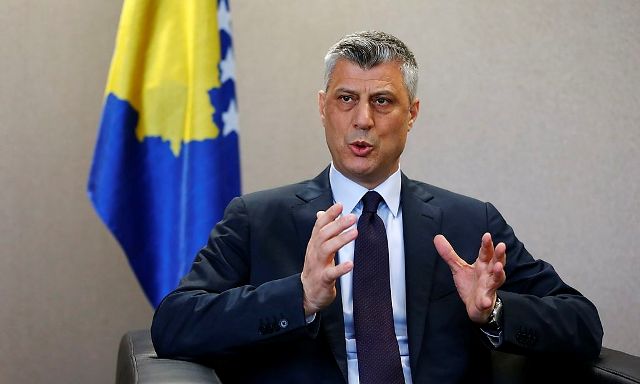 Pristina, March 23, 2015/Independent Balkan News Agency
By Elton Tota
Foreign minister of Kosovo, Hashim Thaci declared that institutions of Kosovo are committed in the fight against terrorism and religious extremism.
"Kosovo has recently approved a new bill which gives 15 years of jail sentence for all those Kosovo nationals who participate in foreign conflicts; Kosovo police have arrested over 45 people suspected of training or sending young people in war zones in Syria. Authorities have also arrested imams who have incited hate or who have recruited young people from Kosovo in foreign conflicts", declared Thaci in a ministerial conference in Austria on the fight against terrorism.
Thaci also sad that Kosovo has organized international conferences with a religious character which have been praised by the UN Secretary General, Ban Ki-Moon, as an extraordinary positive contribution.
"Thanks to our efforts, we have seen a drop of the number of Kosovo nationals from Kosovo who participate in the fights in Syria. Based on the information from our secret services, there are no more than 60 nationals from Kosovo now in Syria and Iraq, compared to over 100 a year ago. But more must be done. We must mobilize parents who do not want their children to die in the deserts of the Middle East. We must talk to our neighbors to cut international communication lines between extremists and we must work in order to improve the economic perspective of young people", Thaci declared.
According to him, Kosovo is a country in which the majority of population are declared Muslims, but with a long tradition of religious tolerance.
"Muslims, Catholics, Orthodox and other small Jewish and protestant communities have flourished in Kosovo for centuries in a row. The war of Kosovo in 1999 was not a religious war, but a war caused by ethnic and political repression. Similarly, the proclamation of the independence of Kosovo, which saw the birth of the youngest state in Europe, is not based on the creation of an ethnic or religious homogenous state, but based on a civil model that we have built after the long negotiations here in Vienna, facilitated by the special UN envoy, president Martti Ahtisaari", he declared.
However, Thaci added that Kosovo became a state in a time of financial crisis and fights in Middle East.
"We have managed to grow our economy, but unemployment amid young people remains high. The eruption of social media means that fights that are held away from our country, become part of the daily news and many people have been emotionally affected by the scenes of massacres in Syria or other countries destroyed by the war. In Kosovo, we have seen the creation of small groups that threaten historical harmony between religions and have become part of the global extremist discourse. This development has worried us, because we know that Kosovo is being scrutinized by our European partners and we must work hard, more than other countries to assure our partners and neighbors that Kosovo doesn't export problems, but it exports peace incentives", Thaci said. /ibna/