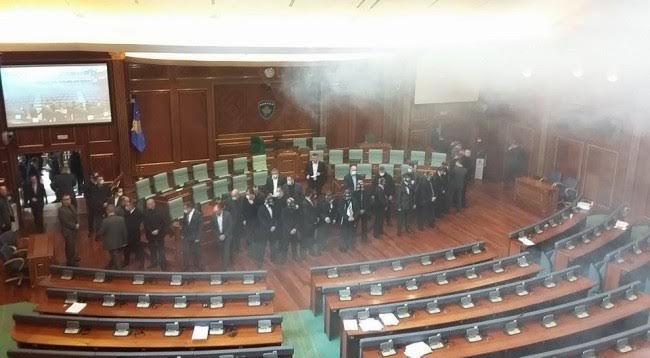 Pristina, 2 November/Independent Balkan News Agency
By Elton Tota
Kosovo's parliament ratified today the Stabilization and Association Agreement (SAA) signed with the European Union. The ratification of the agreement has been made without the opposition's votes.
86 MPs voted in favor of this document. At the time of the voting, the opposition parties had left the house.
After the ratification, minister of European Integration at the government of Kosovo, Bekim Collaku said that SAA marks the first step and the most important one in Kosovo's path toward EU integration.
Collaku pointed out that the agreement in question is no different than the SAAs signed with other countries of Western Balkan.
"This agreement is similar to those signed with other countries of the region. There's no doubt that we are a specific case, but we must not forget that there are still five EU countries that are yet to recognize Kosovo's independence, but they have agreed for our country not to be deprived of the possibility to become an EU member", Collaku said.
The ratification of the agreement was also praised by the president of Kosovo, Atifete Jahjaga. Jahjaga said that "SAA ratification must be seen as the start of an institutional and social commitment for deep reforms, which will strengthen our democracy and improve governance and standards of living for each citizen".
Meanwhile, Kosovo's PM, Isa Mustafa said that this ratification gives way to further integrating processes for Kosovo in the European Union.
"SAA lays the ground for the contractual relations between Kosovo and the EU and this is a very good opportunity for further reforms, economic development and more economic collaboration with the EU countries", he said.
Meanwhile, the head of the Serb List Parliamentary Group, Slavko Simic said that the list fully backs SAA and sees it as an important step for Kosovo to come closer to the European Union.
The Stabilization and Association Agreement with the European Union was signed last week in Strasbourg and this marked the first step of contractual relations between Kosovo and the European Union. /ibna/