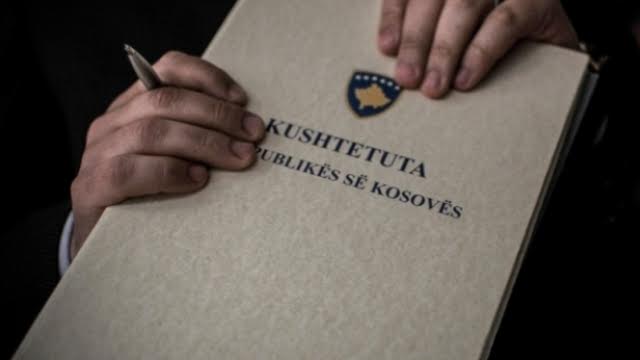 Pristina, 16 June 2015/Independent Balkan News Agency
By Elton Tota
Republic of Kosovo has celebrated the seventh anniversary of the adoption of its Constitution. The highest state officials participated in a symbolic ceremony held at the Ministry of Justice.
President Atifete Jahjaga and PM Isa Mustafa said that the highest legal act crowned the independence of Kosovo.
"Our inspiring and aspiring constitution promotes all inclusiveness, law and order, democratization and tolerance between all citizens of Kosovo. It's up to us, representatives of the citizens, to make this vision a reality", declared president Jahjaga.
Meanwhile, Kosovo's PM, Isa Mustafa said that with the application of the provisions of the Constitution, Kosovo will become part of the most developed European democracies.
"The Constitution, as the highest legal and political act, talks about our responsibility to build a free and democratic state, developed and integrated in Euro Atlantic structures", Mustafa declared.
State leaders are the main violators of the Constitution
In contrast to the majority, the opposition and experts of legal affairs criticized institutions for not applying the Constitution and for violating it for political purposes.
Self Determination has criticized the party in power, Democratic Party of Kosovo (PDK), of taking independent institutions under control for its own purposes.
Zgjim Hyseni of this movement says that during these seven years, Constitution has been misused for interests of the party in power.
"With Enver Hasani as chief judge of the Constitutional Court, the Constitution has turned into an instrument to give Serbia access into Kosovo and to allow PDK to stay longer in power", he declared.
One of the drafters of the Constitution, Riza Smaka, says that the politicians are the biggest violators of the Constitution.
On the 7th anniversary of Constitution, he said that the Constitution has not been able to be implemented in the entire territory of Kosovo.
"The Constitution has been violated by those who should have implemented it. It has been violated by parliament and government. This is not normal and cannot be justified.  The Constitution must not be violated by anybody", he said.
Constitution of Kosovo was adopted on 15 June 2008 and this marked the start of the creation of other state institutions and the active presence of Kosovo diplomacy in international capitals.
Kosovo also adopted laws for the local government such as the Local Self Governance law, the law on administrative borders, local finances, etc. /ibna/