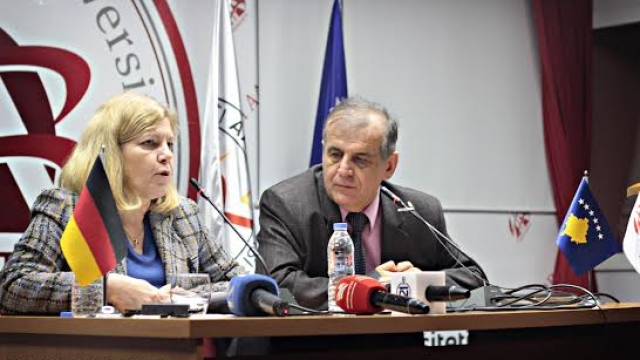 Pristina, January 9, 2015/Independent Balkan News Agency
By Elton Tota
German ambassador to Kosovo, Angelina Viets, in a lecture delivered in front of AAB College in Pristina, talked about illegal migration of Kosovo citizens.
She said that Kosovo emigrants who have sought asylum in Germany will be refused their stay there and will be sent back.
"The number of Kosovo nationals who seek asylum in Western countries has grown dramatically. They will not be accepted! Asylum is not granted on economic grounds. 100% of applications are denied. The only way to stay is if you have a work permit", said the German ambassador.
"Unfortunately, the majority trust criminals who have promised them the 'promised land'. They will come back poor. Their flight is paid by the government", said she.
In this lecture, the German ambassador also talked about relations between Kosovo and Serbia in relation to the integration of both countries.
"Dialogue between Kosovo and Serbia must continue, otherwise there's no development. Economic development must enable the reconciliation of both countries", said the German diplomat.
She said that the EU will not accept countries that have not solved their problems.
"In the conference on Western Balkan, the majority of countries have not hoped on any achievements and have not given any concrete results, but I believe that it has been successful, because cooperation was encouraged between Bosnia and Serbia, who have had a joint project to be funded by the EU. Albania too has marked progress this year, following the visit of PM Rama in Belgrade", said the German ambassador.
In this lecture, ambassador Viets talked about the role of Germany in the Balkan and the missions in Kosovo, since the time of NATO's military intervention in 1999 and then the role of OSCE and later, EULEX.
Speaking about the funds for the development of the Balkan countries, the majority of which come from Germany, she said that "we have been very active in Western Balkan and we have contributed a lot with funds along with other EU countries".
According to her, the main priority of the government of Kosovo for 2015 must be economic development and welfare of the citizens. /ibna/