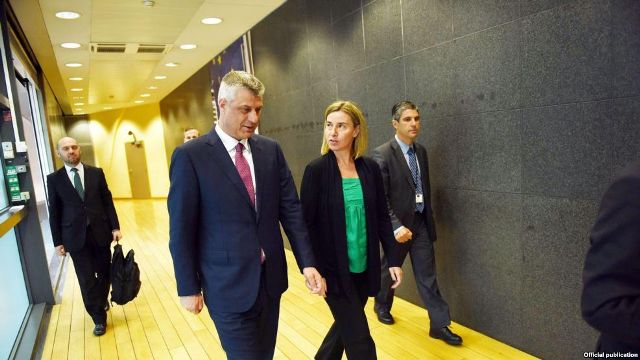 State leaders in Kosovo have assured the European Union that they will respect the conclusions of the dialogue for the normalization of relations with Serbia.
President of Kosovo, Hashim Thaci says that Kosovo's institutions are committed for peace, stability and good neighboring relations with the countries of the region.
"I would like to assure Mrs. Mogherini that Kosovo will respect all the agreements and the commitments made in the dialogue", Thaci said.
The main objective of the last meeting in Brussels, according to him, was to reduce tension and avoid provocations. But, he said that more should be done to normalize relations between the two countries.
"We have asked Serbia to stop provocations which aim destabilizing the situation in Kosovo. I think that there was understanding between the sides for tension to be reduced and for us to commit to dialogue", he said.
Thaci has reiterated that dialogue between Kosovo and Serbia must now enter a final stage.
"I hope that we will reach an agreement for the normalization of relations and create a situation of peace and security", Thaci said.
Kosovo's PM, Isa Mustafa also said that Kosovo is driven toward peace and security in the region, in order to be part of the European Union and to have permanent and strategic alliance with the United States of America.
"We are interested on solving all pending issues with neighbors through dialogue. I think that the time for provocation, conflicts and wars has long gone", the PM said.