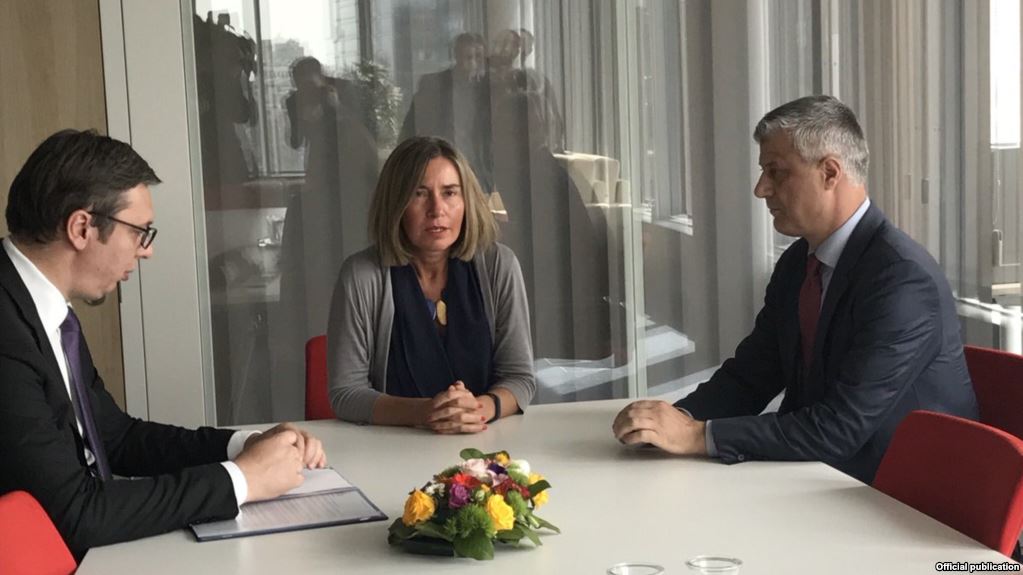 A new round of talks has been held on Sunday in Brussels for the normalization of relations between Pristina and Belgrade. The meeting was held between the president of Kosovo, Hashim Thaci and the Serb president, Aleksandar Vucic.
The negotiator of these talks, head of EU diplomacy, Federica Mogherini said in a press release that "the talks were intensive and productive" and that "they agreed on intensifying efforts in the weeks to come".
President of Kosovo, Hashim Thaci said after the meeting that "it was not an easy meeting, but a positive one".
"In spite of our differences, we agreed on intensifying meetings in an attempt to address all pending issues between our two countries once and for all".
According to Thaci, the final agreement for the full normalization of relations between Kosovo and Serbia is in the best interest of both countries, peace and stability in the region.
"In this important period for the country, we need to be united, because this is the only way we can make our vision for Kosovo's accession in the EU, NATO and UN come true", Thaci said.
The president of Serbia, Aleksandar Vucic said that he has discussed a number of issues with the president of Kosovo.
"We have agreed that all problems should be solved in peace, respecting one another and guaranteeing peace for our citizens. We have also agreed on focusing on dialogue and show that we can address all pending issues. I'm not very optimistic, nevertheless, we are talking", he said.
The Serb president said that he will soon address to his nation "about the solution of the issue of Kosovo and that the decision will belong to the citizens of Serbia.
An agreement for the normalization of relations is a condition for the integration of both countries in the European Union. However, the terms of this agreement are not yet clear.
Pristina says that this agreement needs to include a mutual recognition and Kosovo's accession in the United Nations. Belgrade, which rejects Kosovo's independence, wants "compromise", but without clarifying what this compromise may be. /ibna/