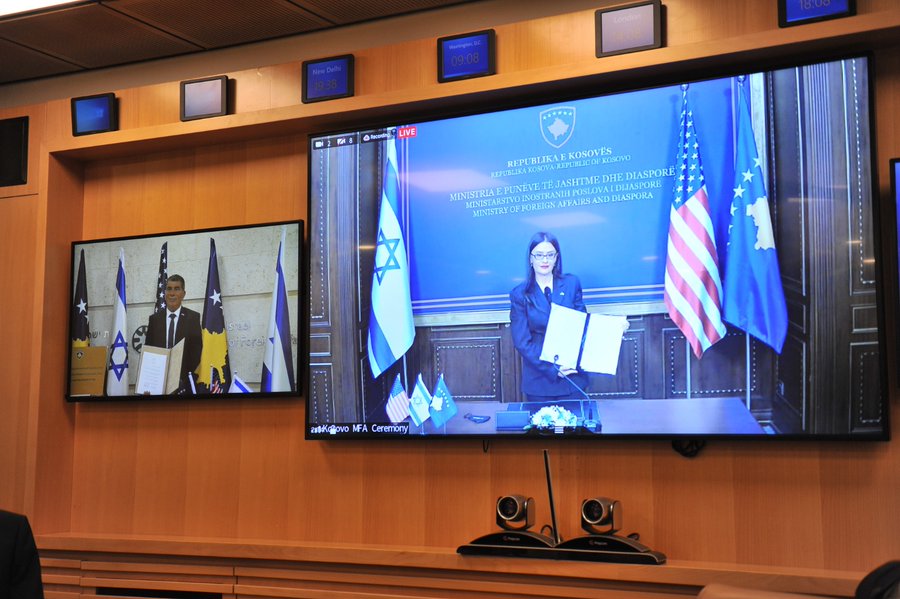 In a virtual ceremony, Deputy Minister of Foreign Affairs and Diaspora Meliza Haradinaj-Stublla and Israeli Foreign Minister Gabriel Ashkenazi signed a document stating that the two countries are establishing diplomatic relations to increase political, economic, trade, know-how, cultural and other areas of cooperation.
In her speech, Haradinaj-Stublla thanked the US and the former Trump administration for paving the way for this diplomatic relationship with Israel.
"Dear US, we are eternally grateful for the bilateral support we have received from you. Creating this diplomatic relationship today would not have been possible without your blessing and commitment. I should also mention former US President Donald Trump, former Special Envoy Richard Grenell, Robert O'Brien, the US State Department and the support of the new US administration for the agreement," said Haradinaj Stublla.
She also thanked Ambassador Philip Kosnett and the Foreign Ministries and all those who contributed in the agreement, saying that Israel is becoming the 117th state to recognize Kosovo's independence. Haradinaj-Stublla called on other states that have not recognized Kosovo to follow suit. She also invited Israeli companies to invest in Kosovo.
Ashkenazi described the agreement reached today as historic, adding that it represents an opportunity to improve relations between the two countries.
"Today we are writing history; today we are normalizing relations between Israel and Kosovo, a moment that many have been waiting for. Today is our opportunity to improve our relations with the people of Kosovo. This agreement is part of the agreement signed in Washington," he said.
The document was signed in four copies; in Albanian, English, Hebrew and Serbian.
The two ministries also signed a memorandum on political consultation and a memorandum on development co-operation.
US Envoy to the Balkans Matthew Palmer also attended the ceremony. /ibna