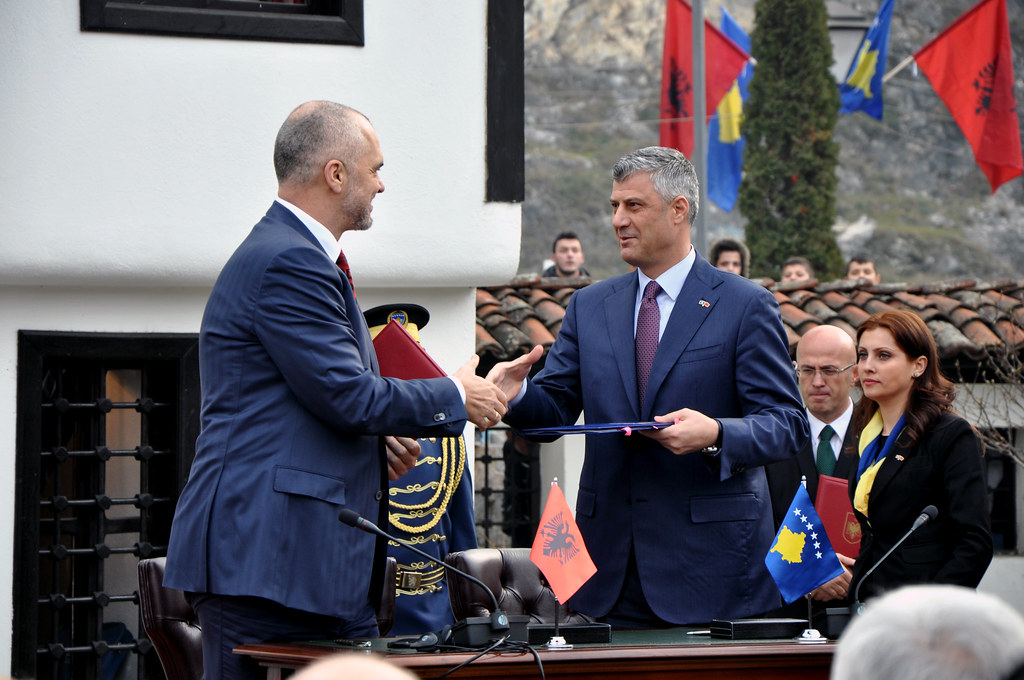 Kosovo and Albania intend on removing borders dividing the two countries in order to facilitate the movement of people and goods.
President of Kosovo, Hashim Thaci said that on the sidelines of the Brdo-Brijuni Summit in Tirana, he and PM Rama discussed the possibility of removing borders between Kosovo and Albania by following a European model.
"Nobody should fear communication, national integration and a space where Albanians live without borders, by including Presevo Valley in the territory of Kosovo", the president of Kosovo said.
The first step was taken on 29 December last year when the two countries signed an agreement for a single stop on the border. Now, the two countries want to scrap border checks.
Prime Minister Ramush Haradinaj has declared that there will no longer be physical border checks between Kosovo and Albania.
The agreement between the government of Kosovo and Albania to facilitate the movement of people and goods between the two countries has angered Serb officials.
Authorities in Belgrade have reacted in several occasions by interpreting the removal of borders between Kosovo and Albania differently. According to them, this agreement is leading to the creation of "Greater Albania".
The opening of borders between Albania and Kosovo is one of the promises made by the Albanian PM, Edi Rama, who has declared that he would have wanted borders with North Macedonia, Montenegro and Greece to be removed completely.
Prime Minister of North Macedonia, Zoran Zaev has declared that he would also want the same thing.
"I would like borders to be open. I don't see anything controversial in the Albanian PM's position. This idea would have great economic benefits and would be the best thing for the citizens living in the countries of the region", Zaev said. /ibna/