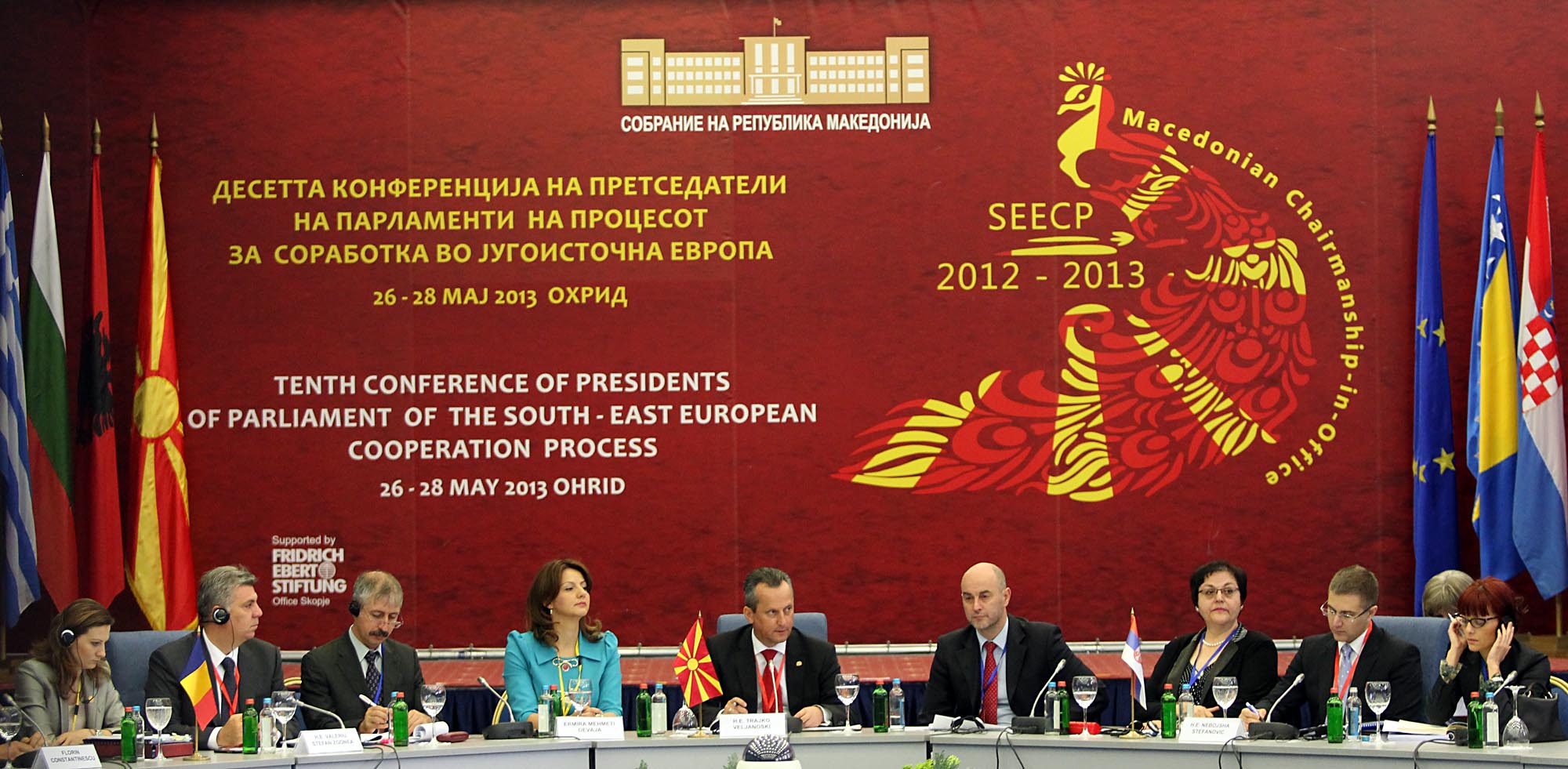 Ohrid, May 27, 2013
The tenth conference of the heads of parliaments of the countries of Southeastern Europe Cooperation Process (SEECP) has kicked off today in Ohrid.
Present in this conference are almost all the heads of parliaments of the Southeastern European countries, with the exclusion of the Speaker of Parliament of Albania, Jozefina Topalli and that of Kosovo, Jakup Krasniqi.
The speaker of the Parliament of FYROM, Trajko Veljanovski stressed at the start of the conference the importance of the parliaments of the region in the aspect of regional cooperation and the establishment of cooperating incentives.
"The legislative and monitoring role of the parliaments of the region is often under the influence of the government and this should be overcome by strengthening the position of parliaments, which is of a strategic importance in strengthening democratic institutions", said speaker of Parliament, Trajko Veljanoski.
According to him, the respective parliaments of the participating countries at SEECP must, with the support of the European Parliament, make constant efforts to support the process of enlargement.
This two day conference is expected to approve documents for the rules and modalities for further development of the parliamentary dimension of SEECP which will lead to the formation of the Parliamentary Assembly.
Due to the electoral campaign in Albania, this country was represented in this conference by the head of the foreign parliamentary committee, Fatos Beja, while Greece is represented by a representative for regional cooperation and partnership at SEECP.
Besides the official representatives, amongst the guests in the conference were the vice speaker of the European Parliament, Laslo Surjan, speaker of the General Assembly of OSCE, Wolfgang Grosruck, general secretary of the Council for Regional Cooperation, Goran Svilanovic, the former speaker of the German Bundestag, Petra Blaz Rafajlovski, former vice speaker of the Bulgarian Parliament, Georgi Pirinski and representatives of Friedrich Ebert Foundation and the Secretariat for Parliament Cooperation at SEECP. /ibna/