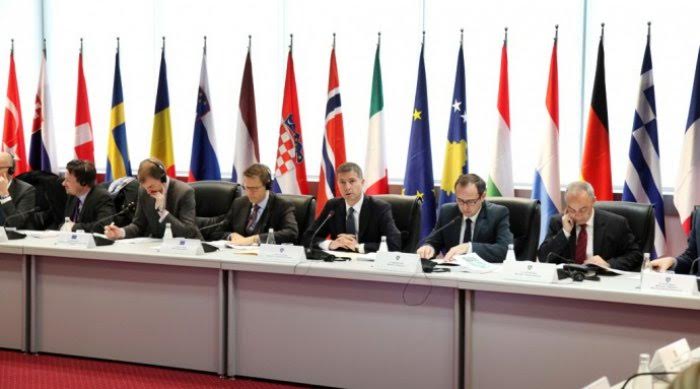 Pristina, 11 December 2015/Independent Balkan News Agency
By Elton Tota
Kosovo institutions have prepared around 40 projects which are expected to be funded by the European Union.
The projects, which aim at improving road, railway and energetic infrastructure, were presented by minister of European Integration, Bekim Collaku.
"Two billion euros have been allocated by the EU for investments in infrastructure for Western Balkan countries. One of the criteria to benefit these grants has been the setting up of the National Council for Investments and the preparation of infrastructural priorities. Kosovo spent five months in preparing the 500 pages strategy for projects in infrastructure", Collaku said.
The Kosovo strategy was also praised by David Cullen, the head of the Unit for Kosovo and FYROM at the European Commission.
"This is an amazing achievement by the government for 2015, where good progress has been achieved in drafting a strategy for investments", Cullen said.
Minister of Finance, Avdulla Hoti said that the agreement that was signed yesterday on the railway is part of these projects.
"Earlier, we have signed a 39,9 million euro deal with EBRD, yesterday we have signed a 42 million euro loan deal with the European Bank for Investments for the rehabilitation of Kosovo railways, which means that we have started with the implementation of projects. This has been one of 39 strategic projects which we will present today", Hoti said.
Minister of Infrastructure, Lutfi Zharku, who presented the projects of this ministry, talked about the railway connection projects between Kosovo and Albania with a value of 40 million euros.
"Ministry of Infrastructure will have 11 projects to be funded, 6 road projects and 5 railway projects with a cost of 1,2 billion euros, which includes the highway linking Pristina to Gjilan", Zharku said.
The projects of the Ministry of Economic Development were presented by deputy minister Besa Zogaj-Gashi.
"All the projects that have been proposed by our ministry contribute for the economic development. The total value of 13 projects is 635,6 million euros", Zogaj-Gashi said.
Projects were also presented by the minister of Environment, Ferid Agani.
"Ministry of Environment has drafted 15 projects which have a total value of 526,7 million euros and which relate to the construction of plants that treat polluted water in several cities, construction of landfills in several cities and rehabilitation of embankments in several rivers to prevent floods", Agani said.
A summit was held on 28 August of this year in Berlin with the participation of German chancellor Merkel, prime ministers of the Balkan countries and several senior EU officials. In this summit, the EU allocated 2 billion euros for Western Balkan. /ibna/