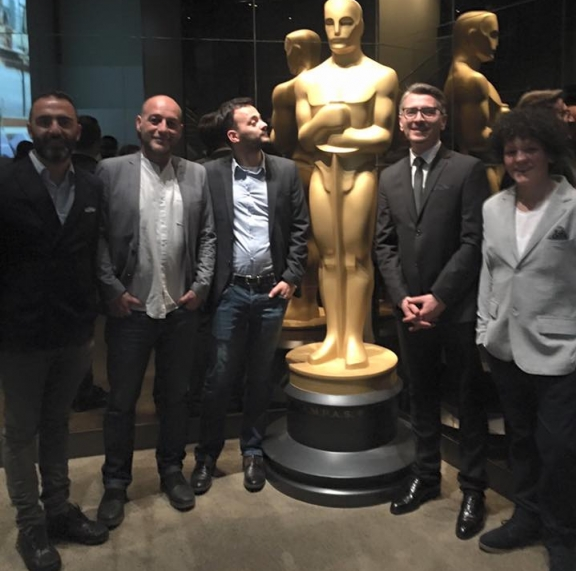 Pristina, 25 February 2016/Independent Balkan News Agency
By Elton Tota
The film "Friend" directed by Jamie Donoughue, was shown on Tuesday evening in the Academy Awards. The film producer, Eshtref Durmishi says that this project is very likely to win an Oscar as the best short film.
"The film was welcomed. There have been applauses when the public learned that a part of the team from Kosovo was in the hall", the Kosovar producer said.
Durmishi says that the film is considered to be a favorite, but this will depend on the votes of the members of the Academy.
This is also confirmed by Durmishi: "I have also seen the other films and competition is strong. All the films of this category nominated for the Oscars are winners. To be among the five best movies in the world, is really a lot", Durmishi said.
Alongside "Friend", other short films have also been shown in Hollywood, such as "Ave Maria" and "Stutetter".
World media predict an Oscar for "Friend"
An article of LA Times has offered reviews about the films will win the Oscar in different categories.
"This time, the winner will be "Friend", a story about the friendship between two Kosovo boys during the war there. The end of this film leaves an extraordinary impression", reads the article.
According to "Indiewire", the film "Friend" is a candidate to win in the "Live Action Short" category.
For the prominent media "Deadline", the film "Friend" is a real candidate and according to this media, this film will shock everyone.
"Yahoo", one of the most visited pages in the world, has engaged its staff of journalists and film critics to predict the winners for this year's Oscars.
According to Yahoo, Leonardo DiCaprio will win an Oscar for the best actor, while Brie Larson will be the one to be chosen as the best actress.
On the other hand, everyone seems to be interested for the Short Film Live Action category, where the film "Friend" is competing.
Yahoo says that although Ave Maria and Stutterer could be winners, the film that tells the story of two children during the war in Kosovo is actually going to be the winner.
Albanians will satisfy their curiosity on 28 February. If "Friend" wins an Oscar, this will be the first Oscar in the history of the Albanian cinema of Kosovo and Albania.
"Friend" is the biggest success in the history of Kosovo's cinema.
The events of this film take place during the war in Kosovo. Two friends put their friendship at test during the war for survival. The film has been supported by Kosovo Cinematographic Center and was produced by Eshref Durmishi and Harvie Ascott.
"Friend" is a 20 minute film and in its cast it has Lum Veseli, Andi Bajgora, Melihate Qena, Luan Kryeziu, Astrit Kabashi, Xhevdet Jashari, Armond Morina, Aurita Agushi, Sunaj Raça, Eni Cani, Kushtrim Sheremeti, Fisnik Ademi, Besnik Krapi and Ardit Tahiri