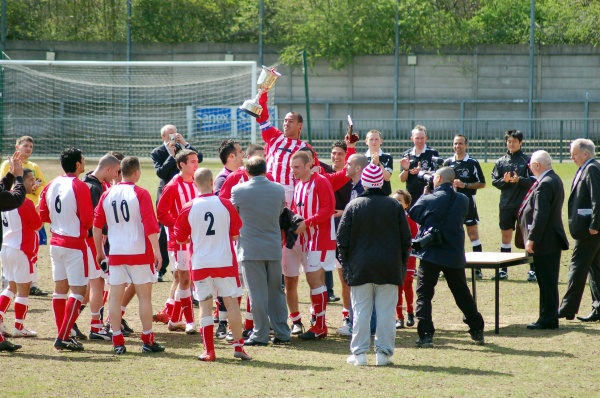 By Thanasis Gavos – London
A new KOPA season kicks off this Sunday (8 September) in London, bringing together the best football talent in the organised Cypriot diaspora. The league has become a well established expression of the community's active cultural life and has grown into a competitive force that attracts players with no other Cypriot connection.
This season starts in an atmosphere of optimism, stemming from a truly successful period last year. Apart from an exciting overall performance of the competing teams on the pitch, it was the careful planning of the league's future with the emphasis in the youth that gave KOPA its cutting edge.
"As the season was in full swing, we sent a KOPA League Youth Under-18 representative team to Cyprus. It was a great achievement in the fact that it was the first time the League had received funding from Cyprus. The rationale behind the move was that Cyprus requires players of Cypriot origin for the national teams, so why not source in the UK where 300,000 Cypriots live," General Secretary of KOPA Michael Yiakoumi told a packed AGM in north London.
Also last year, the KOPA Under-16 team faced the Cyprus national team of Under-16s, losing 2-1. Then the U-18s played AEL drawing 2-2 and then they beat New Salamis 4-0. The trip was acknowledged in Cyprus as the matches were watched by thousands on TV. There even were players who were approached by the national teams' coaches.
Bu the KOPA talent did not cause a stir only in Cyprus. Players were scouted by English clubs resulting in contracts for some of them. Andreas Komodikis and Aris Savva signed with Queens Park Rangers and another KOPA League Youth player, Jamie Alexandrou signed for Torquay United and has already made his league debut with them.
The big bet for this season would be to draw in even larger crowds and even more players. Already the number of registered footballers with the 20 teams of the two divisions has reached 618 – 441 Cypriots and 177 non-Cypriots.
As for the action itself, people in the know vouch for last season's champions New Salamis to retain the title. On the other end, All Saints is a new addition to the league, taking its place as the tenth team in Division 2.