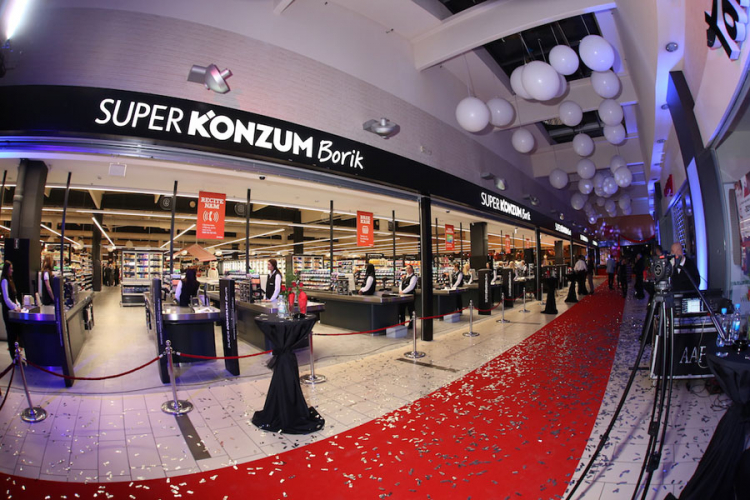 Company Konzum BiH, daughter company of Croatian fallen giant company Agrokor, fired more than 80 employees but there is no official confirmation that it is linked with problems of the Croatian company.
About 40 employees in Banja Luka, the same number in Sarajevo and five employees of one Konzum shop in Mostar will not be part of this company any more. Officially they are fired because the shops where they were working are not profitable. Employees in Banja Luka and Sarajevo had temporary contracts, however employees in Mostar were under permanent contracts but it did not prove to be a guaranty for a sustainable job. Additionally, five employees of one Konzum shop in city of Gracanica were offered to go to work in other cities, but since there was problem with transportation they didn't accept this offer. So the number of Konzum employees who became jobless in BiH is about 90 at this moment.
Federation BiH Minister of Development, Entrepreneurship and Crafts, Amir Zukic, said  to media after meeting with representatives of the Agrokor suppliers companies in BiH, Trade Unions, the Chamber of Commerce of FBiH and the Association of Banks, that this company in this moment owes more than 130 million BAM (65 million Euro) to all of them. He added that suppliers will send the new contract to Konzum BiH company to express their will to take the risk and continue to send the goods, but also demand the guarantees regarding the payment of old debt and new deliveries. It is expected that this agreement will be confirmed at the next meeting, scheduled for next Monday. Zukic told the media that some suppliers had stopped the delivery of goods but decided to continue.
"We want to restore mutual trust. Without delivery and full shelves in stores it is not possible to keep financial flow in Konzum", Zukic added.
Several years ago, when Agrokor and his BiH company Konzum took the job over from Slovenian Mercator, new suppliers saw their chance to cooperate with this successful company. But, problems became obvious a few months ago when payments for goods begun to come later and later. The debt to suppliers has increased to enormous size and BiH Minister of Foreign Trade and Economic Relations in Council of Ministers, Mirko Sarovic, recently estimated that the cumulative debt of Agrokor and its daughter companies in BiH is about 250 million BAM (125 million Euro). He added that it is possible that the debts are even higher. Sarovic held the series of meetings with representatives of various institutions and companies involved in this problem. The common conclusion is that possible 'collapse' of 'Agrokor' or companies in the Group would have a negative impact on the overall balance in BiH and state of employees, and it would also affect hundreds of suppliers from BiH.
"The interest of BiH is that the retail chain and other companies within 'Agrokor', that are operating in BiH, continue to operate normally. This is the interest of employees and the business world in BiH", Sarovic stated.
On Wednesday, Sarovic will participate on the regional meeting on Agrokor crisis in Belgrade. Other participants will be representatives of ministries of trade and economy in governments of Montenegro, Slovenia and Serbia./ΙΒΝΑ