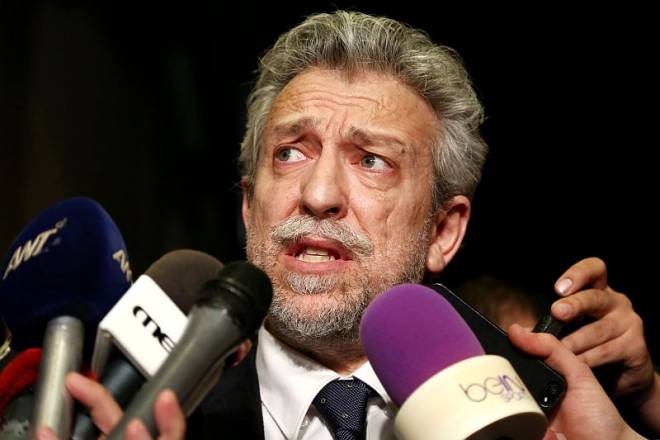 Athens, April 24, 2015/ Independent Balkan News Agency
By Spiros Sideris
The Greek Deputy Minister of Sports, Stavros Kontonis, had a eeting with the President of Panathinaikos FC, Giannis Alafouzos, in which he appeared more conciliatory on the new sports bill that would lead to the exclusion of Greece from international football.
After the meeting, Kontonis commented the interview of the Secretary General of UEFA, Gianni Infantino, who emphasised the desire of the European Football Confederation to meet with people of the Greek state.
"The door of the FFM is always open to all the presidents of the club and will always listen carefully to what they have to say. Yesterday's announcement applies from A to Z. Reading yesterday the interview of Mr. Infantino we saw a light to finding a solution through a constructive dialogue. That's because for the first time UEFA recognises that there is significant corruption problem in greek football".
The Greek Sports Minister then spoke of Wednesday's UEFA-FIFA announcement on the issue: "Unfortunately the announcement of two international federations had the characteristics of an ultimatum and the Greek government cannot alter its legislative process based on unltimatums".
"There is the will to invite the two federations during the discussion of the bill by the House. They should be here Tuesday to present their views. I hope in this context to hear some suggestions for the indentified problems. Because it is either Mr. Infantino's statements made yesterday at lunchtime or the ultimatum-type announcement that the international federations have sent. We hope it is the former".
"The Greek government does not want to cancel the self-governed or to act in such a way as to ban the Greek teams from international competitions. All should be aware, however, that our decisions will not be taken under the dilemma 'either accept the pathogenesis and sepsis or we ban the Greek teams".
"We call on UEFA and FIFA to assume their responsibilities and initiatives. We will be here, waiting, in a spirit of cooperation".