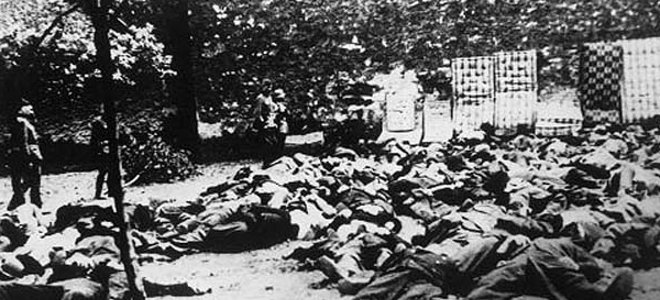 Athens, June 11, 2015/ Independent Balkan News Agency
By Spiros Sideris
"Seventy-one years after "Distomo", and fifteen from when the decision of the plenary of the Supreme Court became final, regarding the reparation for victims and their families, it is the duty of all of us to bring closure to the claim of this debt", said House Speaker Life Kostantopoulou after the ceremony on the memory of the victims at the memorial of Distomo.
"It is time for Germany to respond to this debt. Apology is important, the presence in these events is valued, but this value is served when accompanied by actions that mark the assumption of responsibility, repentance and restoration. The Greek Parliament does it part with the bipartisan committee to best serve this timeless struggle, which is close to be completed".
For its part, the parliamentary representative of ANEL Nikos Nikolopoulos said that the memory of the victims makes it an obligation to assert the German debt, but also "our resistance to the attempted genocide".
"We want to live in a Europe of democracy, in the Europe of freedom. We do not want -and the independent Greek state it here from Distomo – to live in a german Europe", he said.
The representative of the german party Die Linke (The Left) Christine Buchholz said she came in Distomo to show solidarity and to strengthen the efforts of victims to reparations. "We will do everything we can in Germany in this direction", she said.
Earlier, there was the memorial of the victims and the President Prokopis Pavlopoulos laid a wreath at the monument of the Distomo massacre.
For his part, the mayor of Distomo-Arachova-Antikyra, Yannis Georgakis, spoke of a "sacred duty", which "invites us here to this place to honor the dead of the massacre of June 10, 1944".
He stated however that "we do not connect in any way the political or economic processes made by the respective governments and our partners with the issue of compensation for victims of the massacre in Distomo. The way, the claim of compensation is done, through the courts, based on the international law, and the support from emblematic personalities who have experienced the loss and humiliation in the most violent way, the validity of which is not susceptible to doubt by either side, is a testament to the moral and perception of the citizens of Distomo on how they perceive the Law".
Finally, the mayor said: "We have nothing to separate with the German people and ordinary people. Instead, we have many things in common that unite us, particularly the feeling that the assumption of errors and injustices of the past should serve as a solid basis for common the progress of all peoples".