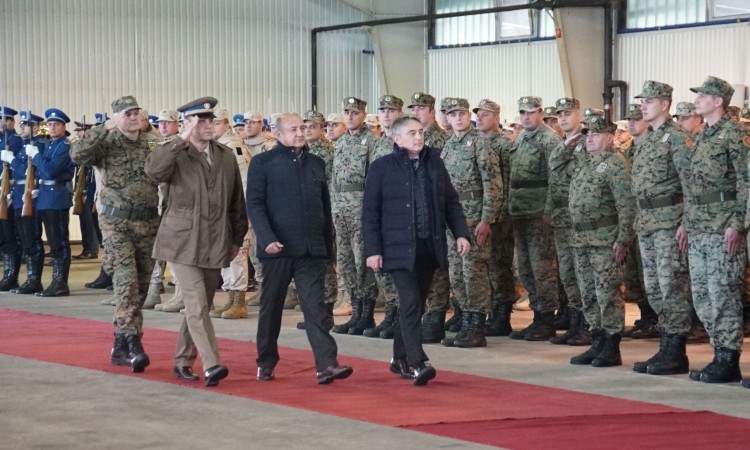 For the past fourteen years, the Armed Forces of Bosnia and Herzegovina (AF BiH) have proven to be a strong and reliable support for the state of Bosnia and Herzegovina and its citizens, and that they are a better part of our society and an indicator that reforms in Bosnia and Herzegovina can be implemented successfully, stated BiH Presidency Chairman Željko Komšić today at a ceremony held at the AF BiH barracks "Rajlovac", on the occasion of the AF BiH Day and the 14th anniversary of this institution.
Representatives of the BiH authorities and international organizations, as well as members of the military-diplomatic corps, and numerous guests attended the marking ceremony.
Addressing the guests on behalf of the Presidency, Komšić as the supreme civilian commander emphasized that the primary purpose of the existence of the AF BiH is to protect the sovereignty and territorial integrity of the country, "and this is also an elementary prerequisite for the integration of the state into wider defense and security systems, such as NATO, under whose auspices, and at the same time relying on our own strengths, we can not only be safe but prosperous as a state and a society".
"The AF BiH are not only concerned with the security of our society, because through their work in peacekeeping missions, especially in Afghanistan recently, they also show that they are a responsible partner to all states and societies that want and strive for peace and stability in the world. The readiness and determination of the AF BiH members to participate in peacekeeping missions and thereby contribute to the establishment and preserving peace in the world is commendable. Our soldiers' engagement in these noble missions makes us proud, but on the other hand, it imposes an obligation to raise the standards for the purpose of the wellbeing of AF members to a higher level in general", said the BiH Presidency Chairman.
Komšić also noted that, at this same place last year, on the thirteenth anniversary of the formation of the AF BiH, "we spoke about the need to make the country eligible for the MAP. One year later, we are pleased to inform the public that Bosnia and Herzegovina has been in the MAP since December 5, 2018, and according to the decision of the BiH Presidency, it will submit annual Reform Programs to NATO Headquarters, which will give new momentum to the integration processes towards NATO membership", Komšić stressed, stating that the process that had been in standstill for years has now been unblocked.
"Today, it will not be easy for anyone in Bosnia and Herzegovina to think that any political manipulation would help them to diminish the role and importance of the AF BiH, and it is not that we have not witnessed such attempts. It is over with such attempts, and those who try it, will end in failure", he stressed.
At the same time, the BiH Presidency Chairman expressed belief that there would be no such attempts in the future, because "anyone who dares to do so must know that he risks everything without achieving anything"./ibna