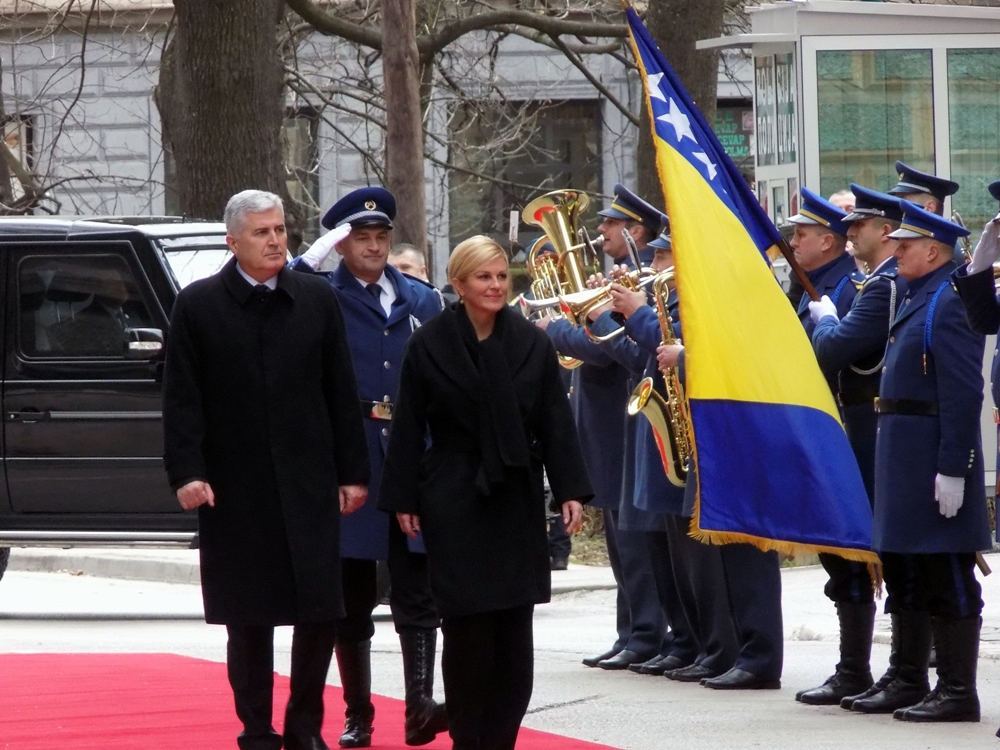 Croatian president, Kolinda Grabar Kitarović, begun on Wednesday a three day long visit to BiH, her first since 2015. During the visit, apart from Sarajevo and meetings with the highest BiH authorities, she will visit several places with Croatian majority and hold meetings with representatives of various non governmental organisations.
A lot has transpired since her last visit to BiH however, with relations between the two countries far from ideal, compared to three years ago. It confirms the fact that, during her last visit, Grabar Kitarovic was welcomed by a large number of Sarajevo citizens as a friend. On Wednesday, on the contrary, a small group of citizens held demonstrations in front of the Croatian Embassy in Sarajevo, expressing their protest because, among other things, Grabar Kitarović never confessed that Croatia was an aggressor on BiH during the war, as it was confirmed by the Hague Tribunal in the verdict to "Croatian six" (de facto five because general Slobodan Praljak committed suicide in the courtroom after he was sentenced for war crimes).
Aside from this small group of demonstrators, many other BiH citizens expressed their dissatisfaction with the visit. Some of them said to the media that, since Grabar Kitarović will visit the small city of Nova Bila in Central Bosnia, she can continue just a few kilometers to the Ahmići village, where during the war Bosnian Croat soldiers brutally killed dozens of Bosniak villagers.
Another issue is that Grabar Kitarović came in the official visit to Sarajevo just few days after the diplomatic debacle in Turkey, where she met with president Recep Tayyip Erdoğan. At the meeting, Grabar Kitarović tried to convince the Turkish president that it is necessary to force Bosniak politicians in BiH to agree with changes in Election law in BiH, suggested by Croats in BiH Parliament. Erdogan refused to do that saying that these problems must be solved in BiH. Details of their conversation, however, were published and Grabar Kitarović lost the confidence of a large number of citizens in Federation BiH as a result.
After the meeting with members of BiH Presidency in Sarajevo, Grabar Kitarović stated that Croatia never had the intention to interfere in internal matters of BiH, adding that Croats in BiH are a constitutional nation and that they will never be a national minority.
"Croatia is obliged to monitor events in BiH and to point out these processes in a friendly manner, but this can not in any way be interpreted as interfering with internal issues", explained the Croatian president.
Another issue that burdens the relations between two countries is the announced construction of the Pelješac Bridge, entirely on croatian territory but, as the BiH side claims, this construction will violate the right of BiH to have access to open sea. BiH has 24 kilometers of the Mediterranean coast and it is at the beginning of the Pelješac peninsula. Now, anybody who wants to go to Dubrovnik by land, must enter BiH and after 24 kilometers again enter Croatia. It complicates the tourists visit to Dubrovnik and Croatia decided to make the link between land and Pelješac peninsula with the bridge. It will be high enough that small boats can enter BiH territorial waters without problems. BiH remarks on this issue are somewhat ridiculous since big ships  even now cannot come close to Neum, due to the shallowness of the water, not because of the bridge.
Grabar Kitarovic said in Sarajevo that Pelješac bridge represents the wish of the state to link the entire country by land.
Grabar Kitarovic's visit is not expected to result in any kind of agreement between the two countries, at least in the area of economy, since BiH and Croatia have a large exchange of goods, but are also burdened with a lot of problems. But it seems that this would bb in the agneda of some other visit./IBNA