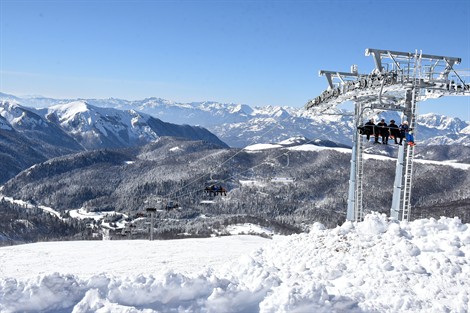 The Government of Montenegro will invest nine million euros in the construction of another cable car at the Kolašin 1600 Ski Resort, for which the Public Works Administration signed on Tuesday a contract with the consortium "Doppelmayr – Kolašin". The ropeway will connect the Ski Resorts Kolašin 1450 and Kolašin 1600.
The Montenegro Government said in the press release that the contract foresees the preparation of the conceptional solution of the detachable six-seater cable car to be completed within two months from its signing, the preparation of the Main project within four months from the conceptual solution acceptance, while the deadline for the completion of the cable car construction is one year from the day of introducing contractors to work.
"The starting station of the new cable car will be at an altitude of 1,430 meters while the output point to 1,770 meters above sea level. The horizontal length is about 1,400 meters with a capacity of 2,600 skiers per hour," reads the press release.
The realisation of this project is a continuation of the valorisation of the Bjelasica tourist potentials after the Kolašin 1600 Ski Resort was officially opened six months ago.
So far, the Government has invested EUR 17 million in the construction of the existing cable car, base station, ski – slopes, access roads and support facilities, while with the new cable car and supporting infrastructure elements the investment value will reach EUR 30 million.
"Investment in the ski resorts construction, the Government recognised as a chance for the development of the north of Montenegro and its tourist potentials in order to create new jobs and improve the citizens' quality of life. The Public Works Administration currently is implementing projects of the construction of the ski centres Hajla in Rožaje, Cmiljača in Bijelo Polje and Žarski in Mojkovac, in which in the next three years over EUR 100 million will be invested", the Government said./ibna