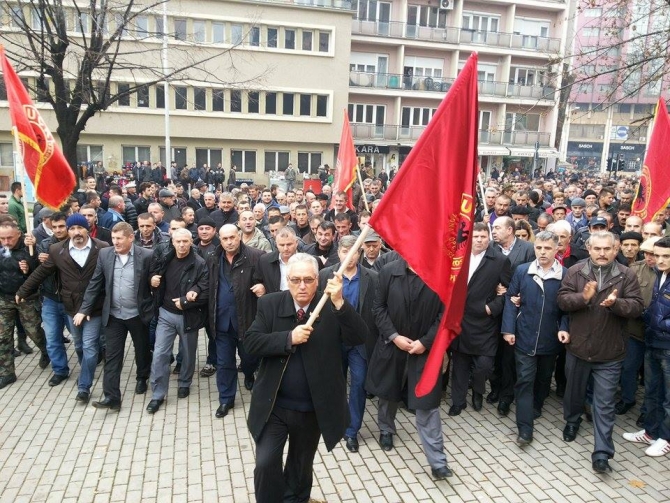 Pristina, December 4, 2014/Independent Balkan News Agency
By Elton Tota
Veterans of the war of Kosovo held a protest today where they demanded the reinstitution of privileges that allowed their children to enroll University of Pristina without the need of an entry exam.
Around 200 former members of the Kosovo Liberation Army and their families gathered today in front of the University of Pristina to demand for one thousand children of veterans and war invalids to enroll as students, after the dean's office recently revoked this privilege.
The protest started with chants against the dean, while representatives of associations held speeches where they articulated their demand for the enrollment of the candidates of their list or the resignation of the dean Ramadan Zejnullahu.
Smajl Elezaj, head of the Association of KLA Veterans, has accused the dean's office of the University of Pristina of not respecting the memorandum of understanding signed between the Ministry of Education, University of Pristina and veterans.
"We were obliged to hold such protest. Besides the delay in applying the memorandum, we're also facing refusals by several circles, including the media. Our demand is fair and we're not demanding anything else. We just want to be treated the same as our category in Europe or America", Elezaj said.
Last month, minister of Education, Rame Buja has demanded for the memorandum of understanding between the ministry, the rectorate and war organizations to be respected.
But, according to dean Zejnullahu, this assistance has been offered through bonus points. He demanded for this problem to be solved by acting PM, Hashim Thaci.
Protesters say that they will not leave without the word of PM Hashim Thaci and resignation of Zejnullahu.
"We will not leave here until we have the word of the PM. The only way we will leave here is if the dean resigns", said Xhavit Jashari from the veteran organization of KLA. /ibna/