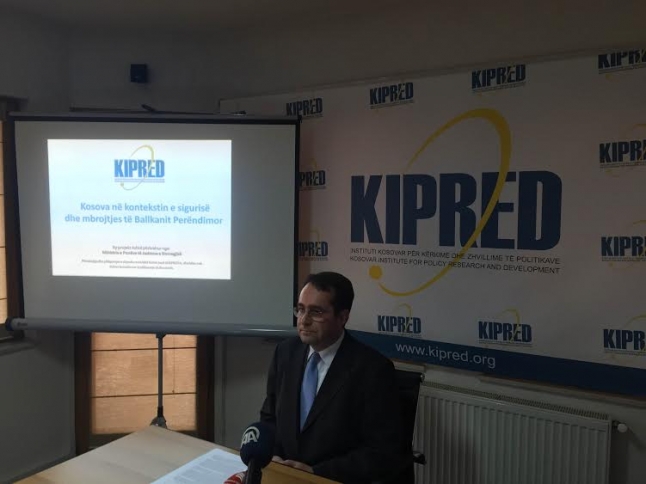 Pristina, December 19, 2014/Independent Balkan News Agency
By Elton Tota
Kosovar Institute for Research and Development of Poicies (KIPRED) has published the report "Kosovo in the context of security and defence of West Balkan".
This report analyzes the policies of national security and defence of the West Balkan countries, their military abilities, the impact of NATO's military involvement and its integrating structures, dilemmas relating security and the challenges of the defence of Kosovo and the possibilities of building up official collaboration between NATO and Kosovo.
The conclusions of the report state that the West Balkan countries have managed to achieve great progress in the reformation of their security and defence policies in accordance to the requirements of NATO accession and Peace Partnership Program.
"Nonetheless, based on national security and defence documents of these countries, there are several key dangers that can cause instability in the region and may cause the emergence of armed conflicts, including conventional reactions. Among them we can mention threats of a political-nationalist nature/ethnic and religious, those relating to the consolidation of the state and contested and undetermined borders. In essence and based on the formal engagement of all the countries of West Balkan for good neighboring relations and to offer a contribution for stability and regional security, these countries are still dominated by a certain level of anxiety, due to a clear lack of trust in relation to future behaviors of several other states of the region", reads the report.
Based on this study, in terms of military capacities and defence expenses, Serbia and Croatia are the two dominating countries in the region.
"The military capacities of the other countries of the region are marginal, if they are compared to these two. Also, the potential creation of the Armed Forces of Kosovo will not have a significant impact in changing the regional balance of strength", reads the report.
The report says that NATO's involvement has had four main results.
"First of all, its military involvement, has discouraged armed conflicts and has transformed West Balkan from one of the most damaged regions from the war filled with hostile societies, into a relatively stable region. Secondly, NATO had a decisive impact in the change of structures and military doctrines that were based on territorial defence; therefore, national armed forces turned into professional armies and their offensive abilities against neighbors were reduced significantly.
Thirdly, NATO's expansion in West Balkan had a key role in the final determination of state borders in the region. Fourthly, the Peace Partnership gave more hope for a bilateral counter balancing or regional cooperation in the domain of defence", further adds the report.
The report also talks about the process of the normalization of relations between Kosovo and Serbia, geo strategic policies of international organizations in the region, security dilemmas and the challenges of Kosovo's defence. /ibna/