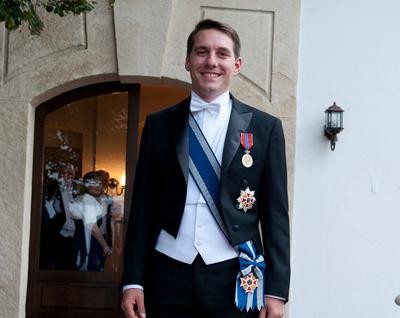 Bucharest, August 10, 2015/ Independent Balkan News Agency
By Daniel Stroe
King Mihai has withdrawn his grandson Nicholas the title of "Prince of Romania", according to a release of His Majesty King Mihai I's Press Office issued today which gave no explanations about what the decision was based upon.
"On August 1, 2015, His Majesty King Mihai I signed a document withdrawing his grandson Nicholas (pictured), son of Princess Elena, the title of 'Prince of Romania' and the style of 'His Royal Highness'", the text reads.
The King also excluded Nicholas from the line of succession to the Crown of Romania. These surprising decisions came into force on the same day, the cited source points out.
"As Head of Romania's Royal House and Family, King Mihai made the aforementioned decisions thinking about Romania of the times to come after the rule and life of his daughter Margareta, the Crown Custodian. His Majesty said that the Royal Family and the Romanian society of those times will need a rule under the sign of modesty, well-thought, abiding by moral principles and respect, and always considering others.
Keeping the same affection for his grandson, King Mihai hopes that Nicholas will find in the coming years a suited way to serve his ideals and to use the qualities God bestowed upon him," the source shows.
Princess Elena, Nicholas' mother, received the notification of this decision through a personal letter sent by King Mihai, the release also informs. Prince Nicholas was born on April 1, 1985, in Geneva, son of Princess Elena and of Professor and UN expert Robin Leslie Medforth-Mills.
In 2010, upon his turning 25, King Mihai I conferred him the title of "Prince of Romania" with the "Royal Highness" style, during a ceremony that took place at the Elisabeta Palace in Bucharest. Since 2007, according to the Fundamental Rules of the Royal Family of Romania, Prince Nicholas had been the third in line to the Crown of Romania.
Even though the Royal House's press release doesn't mention the reason why King Mihai took such a decision, some counselors explained to the Romanian media that the grandson basically couldn't live up to the "rigors" which is title implied. Speaking to Digi24, Ioan Luca Vlad, one of the advisors of Romania's Royal House, said Prince Nicholas' ideals were not compliant with the rigorous demands the title involved, pointing to environmental, youth and business related projects the prince was coordinating.