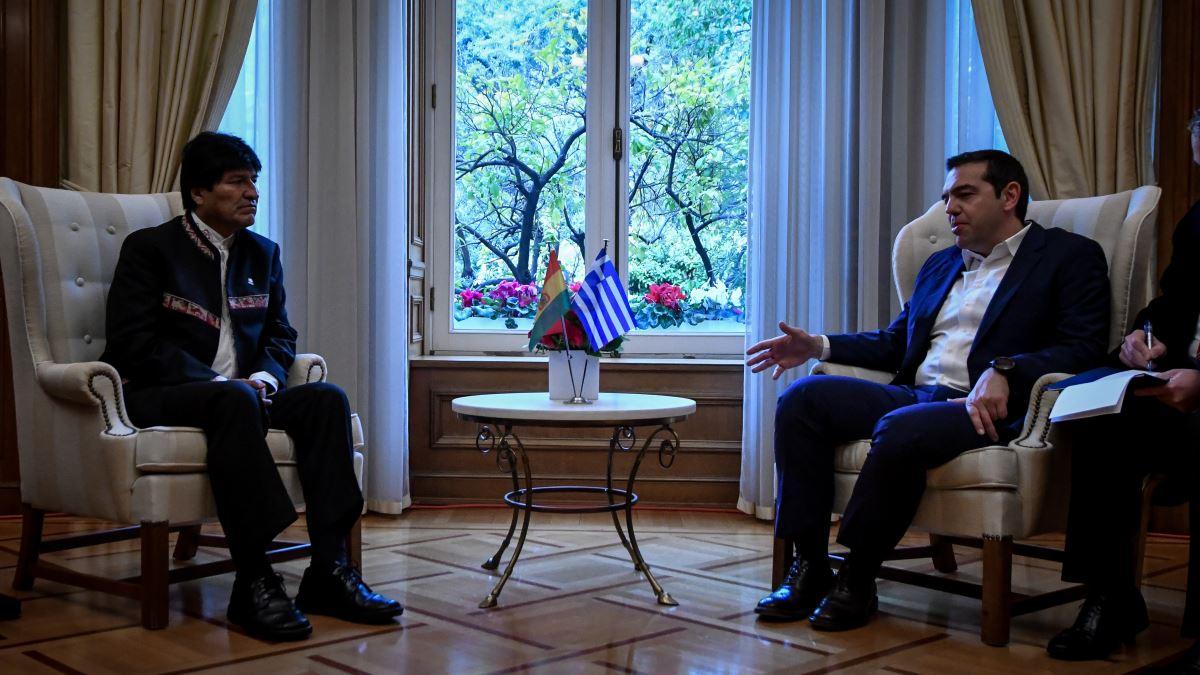 Evo Morales' visit to Athens took place in a warm atmosphere. The President of Bolivia expressed his satisfaction with the constructive talks he had with Greek Prime Minister Alexis Tsipras. Although the two countries are almost ten thousand kilometers away, the two left-wing leaders have a particularly good relationship.
Besides, the president of the multi-ethnic state of Bolivia stressed that with Al. Tsipras shares the view that they have a responsibility as progressive governments "to bring to the peoples of the world initiatives to care for those abandoned sectors of society, for those in need, as the only way a government can guarantee democracy and prosperity is through social justice and the fight against injustice".
Partnerships were agreed in tourism, culture, naval education
Underlining the need for the progressive forces and leaders of the world to co-ordinate against the dangers of the dominance of extreme neoliberalism and the rise of the far right, the Greek Prime Minister announced the support of Athens to President Morales' initiative to hold in his country a meeting of leaders and heads of states and governments from Europe and Latin America, with the aim of creating an International Forum for Dialogue and Communication of Progressive Forces.
The two leaders have also signed cooperation agreements on tourism and culture, as part of the Forum on Ancient Civilizations. Also, to the transfer of know-how from Greece to rural development, as well as the training of the personnel of the merchant navy of Bolivia in Greece, in view of the construction of the railway for the transport of products and energy through the port of Ilo in Peru.
Morales congratulates Tsipras
Evo Morales congratulated Al. Mr Tsipras who, as he said, managed to put Greece on its feet very quickly and move forward, with the Greek prime minister emphasizing the common values, the common struggles "given by all the democrats and progressive citizens throughout the country for more democracy, freedom, independence, social justice".
Indeed, Tsipras and Morales have agreed to meet again this year in Bolivia after the elections in autumn in both Greece and Bolivia, as both have estimated that they will be elected again to their country's leadership.
Common position against external interventions in Venezuela
During their two-hour talk at the Greek Prime Minister's office, they discussed the developments in Venezuela. In particular, they have taken a joint stand against external interventions and in favour of dialogue, in order to find a solution and avoid the risk of a civil conflict. Al. Tsipras pointed out the need for a diplomatic solution and dialogue between all sides, as well as an agreement on a timetable for free elections./ibna