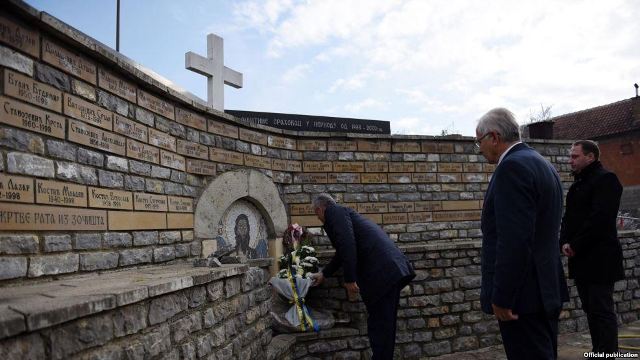 Among the victims in Kosovo, there is a large number of Albanians, but Serbs too.
President of the country, Hashim Thaci has decided to commemorate the Serb victims of the last war in Kosovo and the Albanian ones.
Mr. Thaci visited today Great Hoça village in the commune of Rahovec and also Suhareka and while commemorating the Serb and Albanian victims, he called for reconciliation in Kosovo.
Thaci placed wreaths in the memorial erected for the 84 Serbs of Kosovo. From there, he called on an investigation to take place about the victims of war from 1998 until 1999.
"We're here seeking the truth and demanding reconciliation", said the president.
Underlining the fact that sacrifice is needed for the truth, he added that "for reconciliation, each of us must rise above himself" and that this "must be done in the name of the democratic future of Kosovo".
The president asked for light to be shed on the fate of these missing people and "for justice to prevail and reconciliation to take place".
Thaci said that Kosovo must not remain hostage to the past, but it must build a European future. He said that from the meetings that he has had with the families of missing people from all communities, he's optimistic that there will be reconciliation in Kosovo.
17 years after the war, nothing is known about the fate of around 1600 people, the majority of whom are Albanian. /balkaneu.com/