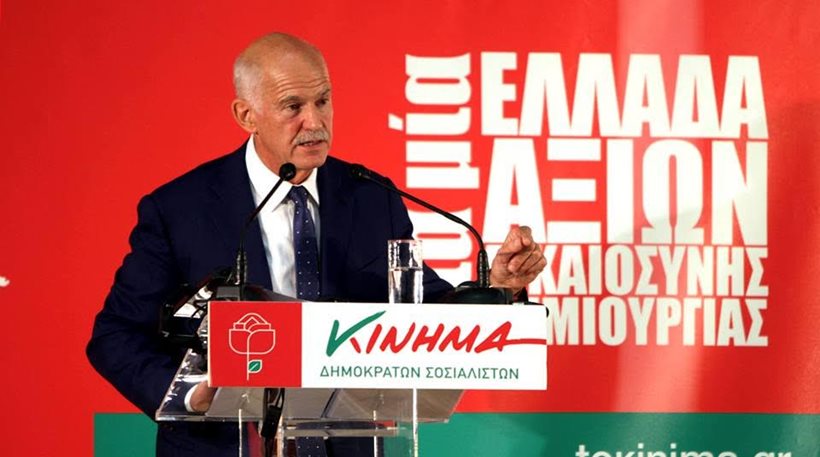 Athens, April 5, 2016/Independent Balkan News Agency
By Spiros Sideris
A text with 10 + 1 political conditions for the discussion of the progressive forces, announced the KIDISO of George Papandreou. According to the party's communication, George Papandreou insists on a joint meeting of the leaders of those parties and movements wishing to participate in the dialogue to agree on what is sought to be achieved.
The publication of these positions comes to complement the efforts of both PASOK and The River on the common course through a platform of a new party in the center-left space.
According to the announcement of KIDISO
"a. What is required is a clear position on the part of all those who are interested to participate in this dialogue, to make it clear to citizens what exactly this dialogue concerns.
b. Reliability in the process will give a joint, around a table, involvement of the leaders of the self-determined progressive forces, to agree that this effort concerns the status and future of the Greek people and the country, so as to prevent the very likely possibility of the identification of this project with electoral tactics, objectives and intentions, which can refer either to efforts of previous eras, or to the satisfaction of personal and partisan strategies and objectives
The stakes of this attempt refers to the same stake that concersn the Greek people and the country. The definitive, fundamental change the country.
The final overthrow of the parasitic cliental politico-economic system, which continues to generate injustices and inequalities.
The definitive dealing with of the causes that led the country to the brink of a national disaster, so as to form a progressive, visionary and realistic exit proposal from the crisis, but to also form the necessary terms and conditions for building the next day.
A sustainable path, ie, that will put Greece on the map of the global division of labour, will bring sustainable jobs and will utilize the existent comparative advantages of Hellenism and the country", stresses the statement.
It also makes clear that the KIDISO and George Papandreou "do not submit another proposal on procedures, organization and planning of the dialogue, but also contribute to their position on the existence, at the outset, of political conditions in this venture, noting that all other things, processes, organization, come next and indeed must be developed through a dialogue to be held with the equal participation of all and with due respect to each political entity that wishes to participate.
"Anything else, can not meet the people's expectations and can not involve any really progressive citizen".
"This requires courage and determination", concludes the KIDISO.