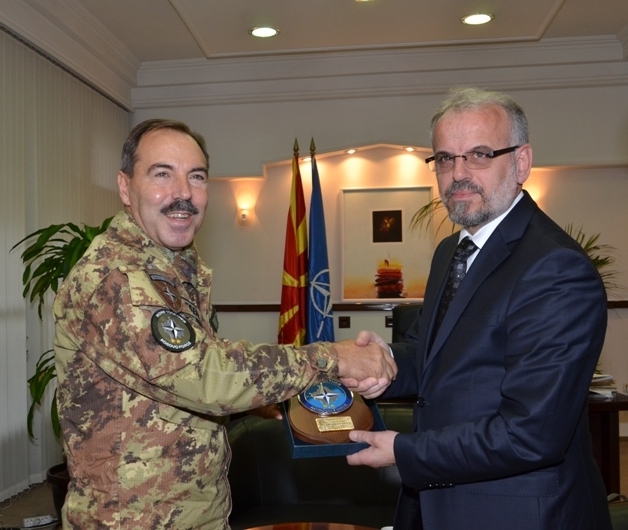 Skopje, November 25, 2013
KFOR commander, general major Salvatore Farina is staying on an official visit today in Skopje. The senior general of international troops in Kosovo met with the Minister of Defense of FYROM, Talat Xhaferi.
According to the statement of the Ministry of Defense, Xhaferi and Farina have exchanged ideas about the cooperation between KFOR and FYROM, as a country which offers permanent logistical support for NATO led operation in Kosovo, for present and future activities of KFOR and the situation in the north of Kosovo.
Minister Xhaferi has stressed that FYROM and the armed forces of this country will continue to be a partner of the Alliance in all its efforts for world and regional prosperity, as a condition for economic welfare.
General Farina has expressed his gratitude for the logistical support provided by FYROM for KFOR forces and has stressed that the completion of KFOR activities in Kosovo are of a crucial importance.
FYROM provides logistical support to KFOR through the coordinating center for support, which started its work in 2005 as a project which for the first time was implemented by a member country of the partnership for peace. /ibna/