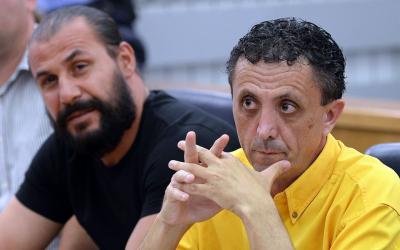 Skopje, November 7, 2013
Court of First Instance in Skopje has remanded journalist Tomislav Kezharovski into house arrest today.
The ruling was issued by the penal council of the court, after deliberating the proposal of the defense lawyer of Kezharovski. The house arrest will last for 30 days starting from today, states the press release of the court. Kezharovski is expected to be released in the evening and from the prison of Shutka he will be transferred to his home. Starting from next month, he's expected to suffer his 4 and a half years of prison sentence.
Kezharovski was accused of leaking information on a protected witness.
Another 4 people who were involved in this case were sentenced. The other sentenced people are lawyers, judges, prosecutors and business people, who are accused of abusing with office, bribery, unlawful intermediacy and illegal possession of weapons.
Tomislav Kezharovski is accused of revealing the identity of a witness under protection in the trial which relates to a double murder taken place near Veles in 2008. But the witness on which Kezharovski has written has resulted to have committed perjury. The European Union, different organizations of human rights and associations of journalists have reacted upon Kezharovski's arrest. /ibna/