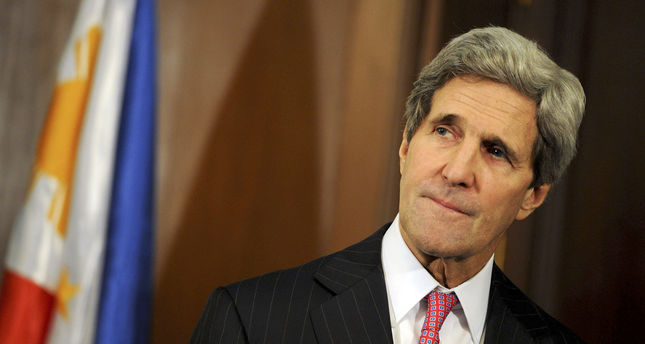 The promises he was given by Erdogan and Davutoglu
Jihadists dominate the agenda
By Manolis Kostidis – Ankara
U.S. vice president John Kerry visited Ankara in order to exert pressure on Turkey to join the fight against the jihadists of ISIS.
Kerry held successively meetings with Turkish Foreign Minister Mevlut Çavuşoglu, President of Turkey Recep Tayyip Erdogan, and finally with Prime Minister Ahmet Davutoglu.
Information from the turkish capital say that Turkey informed Kerry, that it cannot be part of any alliance, but can provide technical and material support, as well as humanitarian assistance.
Diplomatic sources emphasize that the two sides agreed on a strategy to combat, not only ISIS, but "all terrorist organizations". According to information, the Turkish officials promised the "opening of Turkey's airspace to foreign fighter jets, in addition to granting airforce bases".
O Keri spoke with Erdogan for 2.5 hours and with Davutoglu for 1.5 hours.
Ankara does not want to be seen as fighting ISIS for many reasons, the most important being that the jihadist organization last July had invaded the turkish consulate in Mosul and since then have been holding the 49 employees and their families hostages. The turkish government believes that if they take part in any operation against ISIS, it will endanger the lives of fellow citizens.
At the same time, Turkey as a Sunni country does not want to appear fighting Sunni Muslims, whom until recently supported on their fight against Assad.
The striking feature throughout all this is that the only ones who are really fighting ISIS all this time are the Kurds of Syria, Iraq and Turkey, to whom the U.S. appears determined to provide weapons to continue the fight.
The possibility of sending heavy weapons to the PKK meets with the opposition of the turkish government.
Recep Tayyip Erdogan will visit Qatar, on Sunday, which until recently was the biggest supporter of Islamist rebels fighting against Syria's Bashar Assad.
John Kerry immediately after his visit to Turkey will visit Egypt.