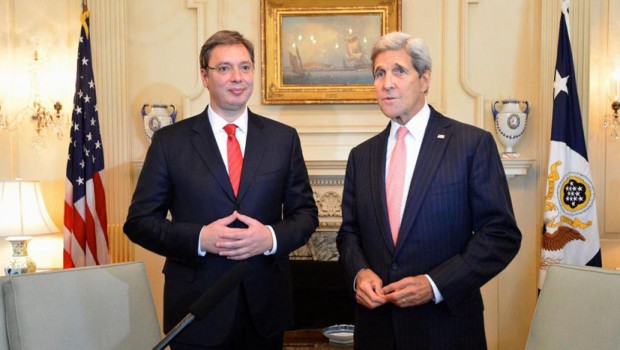 Belgrade, July 18, 2016/Independent Balkan News Agency
By Milos Mitrovic
US Secretary of State congratulated the Serbian Prime minister on the opening of the new chapters in Serbia-EU accession talks, Belgrade media report today citing diplomats. Premier Aleksandar Vucic who attends EU-Serbia intergovernmental conference met John Kerry at the margins of his meeting with EU Foreign ministers.
Kerry praised the constructive role of Serbia in Western Balkans, while Vucic thanked him for the American support on the opening of Chapters 23 and 24 which tackle judiciary and fundamental rights as well as law, freedom and security, Radio-television of Serbia (RTS) has reported. But these chapters are not yet formally opened.
Serbia-EU intergovernmental conference will be over tomorrow.
"American secretary of state commended the politics of regional stability conducted by Serbian government and asked premier Vucic to continue his proactive and sincere approach which gave significant results in calming tensions, and reconciliation in Western Balkans", diplomat sources said.
Vucic's cabinet stated that he and Kerry have agreed that both Serbia and United States are ready to further improve bilateral relations.
PM thanked Kerry for the "clear and unambiguous" American support to Serbia's European path, especially for the opening chapters 23 and 24. State secretary's assistant Victoria Nuland, who recently visited Belgrade, attended the meeting.
In Brussels Vucic also met Austrian and British Foreign ministers Sebastian Kurz and Boris Johnson. The latter also congratulated Vucic for the new phase in Serbia's talks with the EU, PM stated on his Twitter account.
Vucic will also meet Johannes Hahn, EU enlargement and neighborhood commissioner, and Federica Mogherini, EU head of diplomacy.