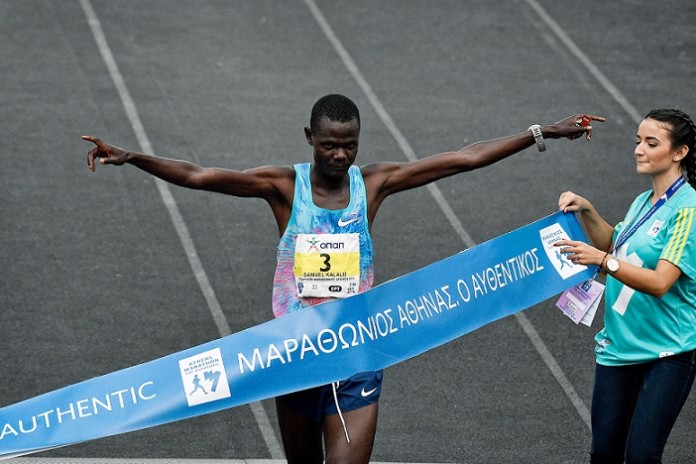 The authentic Marathon of Athens is one of the most well-known athletic events on a global scale, a run that even non-athletes wish to do at least once in their lives and a "meeting" among the best runners on this earth who can take such a distance. Last Sunday's Marathon was the 35th and had quite a Kenyan colour about it as all three male medals were won by Kenyans, whereas two Kenyan ladies were the silver and bronze medalists in women.
On Sunday, November 12, Athens celebrated the 35th Athens Marathon race were, according to the organiser, the Hellenic Association of Amateur Athletics SEGAS, 18,500 runners from 100 countries started participated in it and another 30,000 signed up for the two shorter  of races 10km and 5km in central Athens.
As mentioned before, the Kenyans shone as all three male medal went to athletes from Kenya and two more were won by their female compatriots.
Samuel Kalalei won the Gold medal with a time of 02:12:17, followed by Rotich Milton Kiplagat and Jonathan Yego Kiptoo.
In the women's race, 18-year-old Ethiopian Bedaru Badane was first to cross the finishing line in 2:34:18, second came Kenya's Alice Kibor Jepkemboi only four seconds later and third, also from Kenya Nancy Arusei.
"Speaking after his win, Kalalei said: "It was the first time I ran in Athens. It was a difficult race. It had a lot of hills but I prefer them. I would like to run again in the Authentic Marathon of Athens", wrote ANA-MPA.
The Greek athlete who crossed the finishing line first and made it 8th in the race, was Konstantinos Gkelaouzos, with a time of 02:27:21 and in (Greek) women, Rania Rebouli with 2:49.06.
Tourism Minister Elena Kountoura, took part in the race doing the 5km run and after finishing said that the event is a celebration of all sports.
"Today it is about celebrating athletics, celebrating tourism, celebrating Greece. We are very proud about the global appeal of our country, the country where the Olympic Games and the Marathon race were born. It is a life dream for many to run in the original Marathon."…/IBNA
Photo: AFP