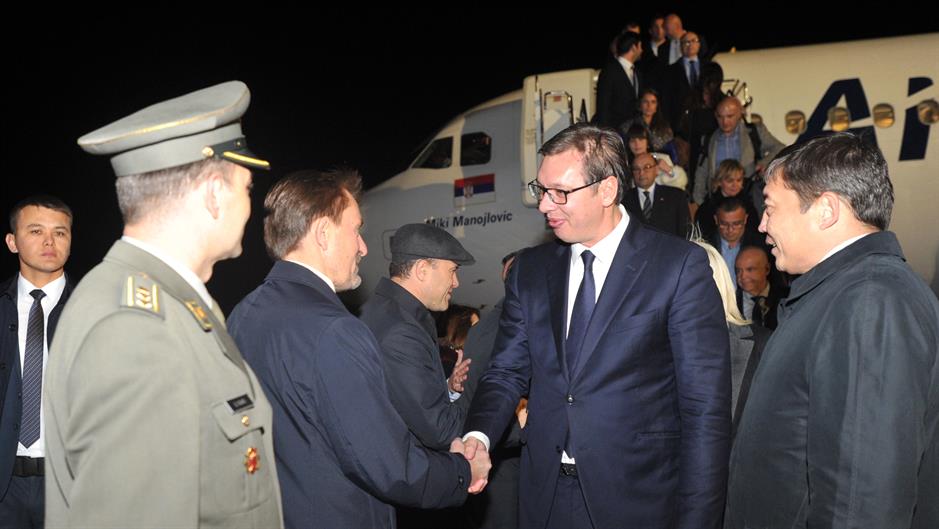 Serbian President Aleksandar Vucic arrived late on Monday in Astana, the Kazakh capital. Vucic is paying a three-day official visit to Kazakhstan where he was invited by his Kazakh counterpart, Nursultan Nazarbayev.
After taking off from the 'Nikola Tesla' International airport of Belgrade (to the Astana International airport), the president's plane was followed by military, Russian-produced MiG jets in an obvious sign of honouring the head of the Serbian state. After reaching the end of Serbia's air space, the MiGs returned to their Belgrade base, state-owned media reported.
Vucic is being accompanied by a number of government ministers as well as a business delegation.
Today, Vucic and Nazarbayev will award each other with the medals of friendship; after this cemonial event, they will have a meeting. Moreover, Vucic is to be awarded with the title of (the) honorary professor at the L. N. Gumilyov Eurasian National University –a Kazakh national research university and the largest institution for higher education in Astana; the hosts will also reveal a plate placed on the wall with the Serbian president's name inscribed on it.
Vucic will also hold a lecture for the students.
Alongside with the Kazakh Prime Minister, Bakythzan Sagnitayev, the president will attend the "Kazakhstan-Serbia" business forum. According to the plans, many bilateral agreements will be signed: the fight against crime, sports, youth policy and, construction, investments and air transportation will be some of their topics, to name a few.
On Wednesday, Vucic, Nazarbayev, the Grand Imam of Egypt, Ahmed el-Tayeb and other dignitaries will take part at the "Religious Leaders for the Safe World" conference-special session (part of a wider international discussion that began lately, in Islamabad, Pakistan on world peace, which would be better facilitated through more frequent and sincere dialogue among world leaders which is considered imperative. This is seen as a "must" also in relation to religious freedom and the avoidance of fundamentalist ideals that cause religious bias and threaten global conviviality at the very least). The previous similar event (against bigotry), was held in Islamabad, at the end of September 2018. It was titled Efforts of Kazakhstan and Pakistan for promotion of global peace through Congress of leaders of world and traditional religions and was organised by the IIU Islamic Research Institute (in Pakistan).
In the invitation the Kazakh president had sent to Vucic in August, he had talked about and underlined the "similarity of the two countries' position in the international arena".
Right now, Aleksandar Vucic made positive remarks on the modernisation of Kazakhstan and (the) "many ongoing projects" in Astana, which could stand and be "used" as a model city for Serbian cities.
The political dialogue between Kazakhstan and Serbia has been intensified in the past three years, the Serbian president has said. He thanked Nazarbayev for the "principled stand" (as the highest ranked representative of his country) over the Kosovo and Metohija issue…. / IBNA
Main Photo: Serbian President Aleksandar Vucic (second from R) arrives in Astana, late on Monday evening, October 8, 2018