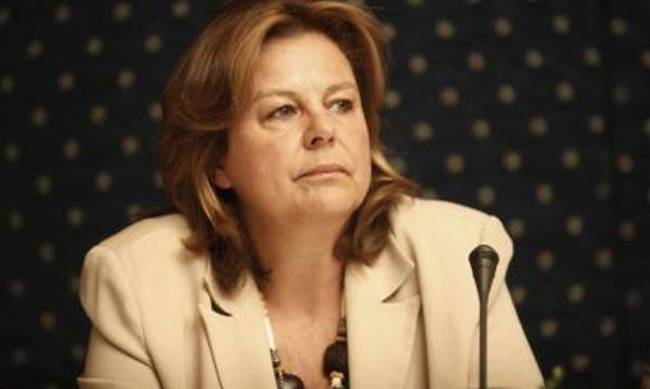 Athens, April 6, 2016/Independent Balkan News Agency
By Spiros Sideris
To a return to normality for the greek economic and business activity, but also for ordinary depositors looks forward Louka Katseli, Economics professor, president of the Greek Banks Association and Chairman of the Board of the National Bank.
And this can not occur if the restrictions on capital controls are not removed.
Speaking to DW on the sidelines of the Greek-German Business Conference, organized in Berlin, Katseli expressed optimism that such a development could happen in the coming months.
The three conditions
But H Louka Katseli set three conditions: "It will depend on the steps to be taken in the coming months.
More specifically, the steps are:
First, the evaluation needs to be completed, which we hope to do as soon as possible.
Secondly, the ECB should put us in the normal flow of funding, that is, as Greek banks to be able to borrow like all other European banks with low cost. Immediately after that, I imagine, the restrictions on capital controls will be lifted. I hope all this will be done in the coming months".
The climate in Berlin in regard with the assessment is recorded as positive
The same positive sign emitted as well the Minister of Economy, Development and Tourism, Giorgos Stathakis.
From the step of the Conference speakers and at a briefing of Greek correspondents, he estimated April 22 as a realistic timetable to conclude the evaluation, and following that, the insurance and tax bills to come to a vote in the House.
Trust as a prerequisite
the point of the Berlin Conference was the reinstatement of confidence in the Greek-German relations, which is a sine qua non for restarting the economy and development. "The speakers said three things", Louka Katseli summed up:
"First, to consolidate a climate of confidence and positive outlook for the Greek economy, secondly, to improve the regulatory framework, particularly licensing procedures and business operation and the entire judicial dispute settlement procedure.
Finally, to provide funding for sustainable investment programs, both through banks and international partners".
The message was received by both sides, but mostly from the Greek which is to create conditions for a sustainable development path in Greece.
Katseli assured that after the recapitalization of the banking system is on track and every problems it is facing are manageable. However, growth with capital controls can not be achieved. "From our part, we are always ready for the return to normality", she emphasised.