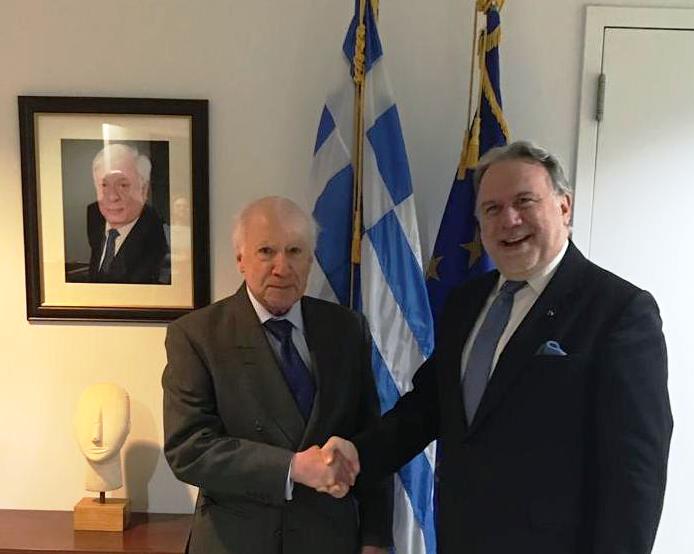 Greek Deputy Foreign Minister Giorgos Katrougalos arrived in New York late in the evening, from Washington, for a meeting with his American counterpart Mike Pompeo that will mark the start of the US-Greece Strategic Dialogue. Apart from the known agenda, talks will include the Macedonian issue, but also the tension that has been revived with Albania lately.
In New York, Mr Katrougalos had meetings with Jane Holl Lute and Matthew Nimetz. As pointed out by the Greek deputy Foreign Minister, Lute and Nimetz are working on behalf of the UN and the Secretary General Antonio Guterres, on key issues Greece is facing, but which they also concern International Law and the role of the United Nations, the Cyprus and the Macedonian issues.
At the meeting with Lute, Giorgos Katrougalos reaffirmed Greece's commitment to the need to resolve the Cyprus problem, on the basis of UN resolutions. The Greek deputy FM also reiterated the standing positions of Greece that the international dimension of the Cyprus problem cannot but take into account the progress made in Crans-Montana and was reflected in the so-called Guterres framework. Of course, the Greek position remains that the Cyprus issue is an issue of the application of international law and that the anachronistic status of the guarantees can no longer be maintained, Mr Katrougalos added.
At the meeting with Matthew Nimetz, the minister he confirmed the commitment of the Government and Greece to the spirit and the letter of the Prespes Agreement, with the self-evident precondition that this commitment is reciprocal. Discussion also focused on the progress towards the completion of the Prespes Agreement, but also on some of the problems that have been created lately. Finally, Giorgos Katrougalos thanked the American Diplomat for his important contribution to the solution of the Nomenclature./IBNA