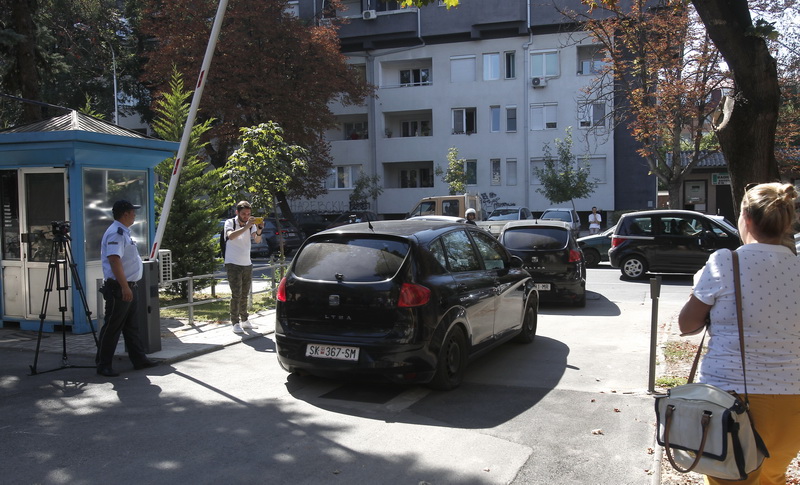 Special prosecutor Katica Janeva was taken to the Skopje-based Criminal Court to appear before a pre-trial judge, who should decide on the prosecutor's request for detention.
Police on Wednesday searched Katica Janeva's home in Kozle twice.
Earlier today, police officers detained Janeva acting on an arrest warrant of the Public Prosecutor's Office.
She was transported by police to the SPO's offices, where a search was conducted and Janeva's computer was confiscated with an order.
SPO's chief prosecutor was then brought back to her home in Kozle where police seized furniture and other items. Katica Janeva's home in Gevgelija has also been searched.
After Janeva was detained, State Public Prosecutor Ljubomir Joveski, his deputy Liljana Spasovska and Head of the Public Prosecution for Organized Crime Vilma Ruskovska held a news conference on further investigation in the Racket case.
The Public Prosecution Office requests detention for SPO's chief prosecutor Katica Janeva on suspicion of abuse of office to pursue a private gain.
Speaking at a news conference Wednesday, State Public Prosecutor Ljubomir Joveski said there are grounds, on the basis of collected evidence so far, to probe Janeva's involvement in the Racket case.
Joveski said evidence shows that Janeva secured private gain in amount 290,000 denars (about 4,705 euros) by using her influence in a proceeding against a suspect in the Empire case.
He said that the head of the Special Public Prosecution abused her powers for private gain after she had signed an order for the release of the suspect from jail and return of his passport. Also, she had proposed that the suspect in the Empire investigation should be given an alleviated position by being considered as a witness in the probe.
Katica Janeva, who can be heard in audio recordings released by the Italian newspaper La Verità, yesterday was questioned at the Public Prosecution for Organized Crime over the Racket case./ibna