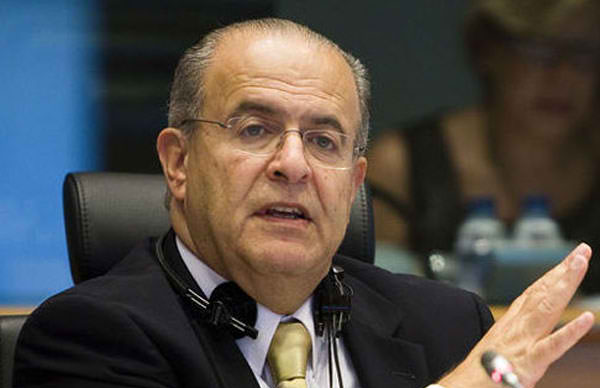 By Thanasis Gavos – London
Cyprus's Foreign Minister Ioannis Kasoulides was received by the British Foreign Secretary William Hague at the latter's official residence in London, 1 Carlton Gardens, on Monday afternoon, for a candid exchange of views on a wide range of issues of common concern.
The cordial atmosphere during the working lunch was apparent at the end of it, something noted by Mr Kasoulides who spoke to reporters. As was the case at the time of his first visit to London soon after the new government took over, the Foreign Minister came determined to present Nicosia's position on the Cyprus issue and the hydrocarbons developments, among other bilateral and international matters. He did that, as usual, in a direct yet no threatening manner, a skill that commands genuine respect by the person sitting opposite him. He is also determined to listen and use his analytical diplomatic skills in order to dissect and properly evaluate his interlocutor's points, something also apparent in the clear-headed way he responds to every question.
Mr Hague's assertion in his written statement issued after the meeting that Cyprus can count on the UK for support in the renewed efforts for a comprehensive settlement is as good a result as Mr Kasoulides could get out of a first official meeting with his counterpart.
It is worth remembering that only a couple of months ago there was intense talk of Turkey and international players pressing the Cypriot government to get involved in renewed negotiations almost straight away. Nicosia's response was that such hurried talks could not begin with the country and the government embroiled in the financial maelstrom still facing it. The government's position was that no negotiations could start before October, after the overhauled fiscal policy was put on track.
The fact that Nicosia's will was imposed owes a lot to Mr Kasoulides's diplomatic missions abroad. Even if there is truth in reports that London was also examining a quick resumption of talks, Mr Hague has now conceded that Cyprus has a case in point.
At least from London the view is that in Mr Kasoulides Cyprus has a figure of authority representing its interests. The warm atmosphere at Monday's lunch and even more the praise British parliamentarians reserved for the Foreign Minister after his first visit to London back in April are an eloquent proof of that.
The most serious challenges for the Cypriot politician are yet to come. However, as a Labour MP commented during an event at the Houses of Parliament at the time of that first visit, "no one would want to sit at a negotiating table and have Mr Kasoulides opposite him."