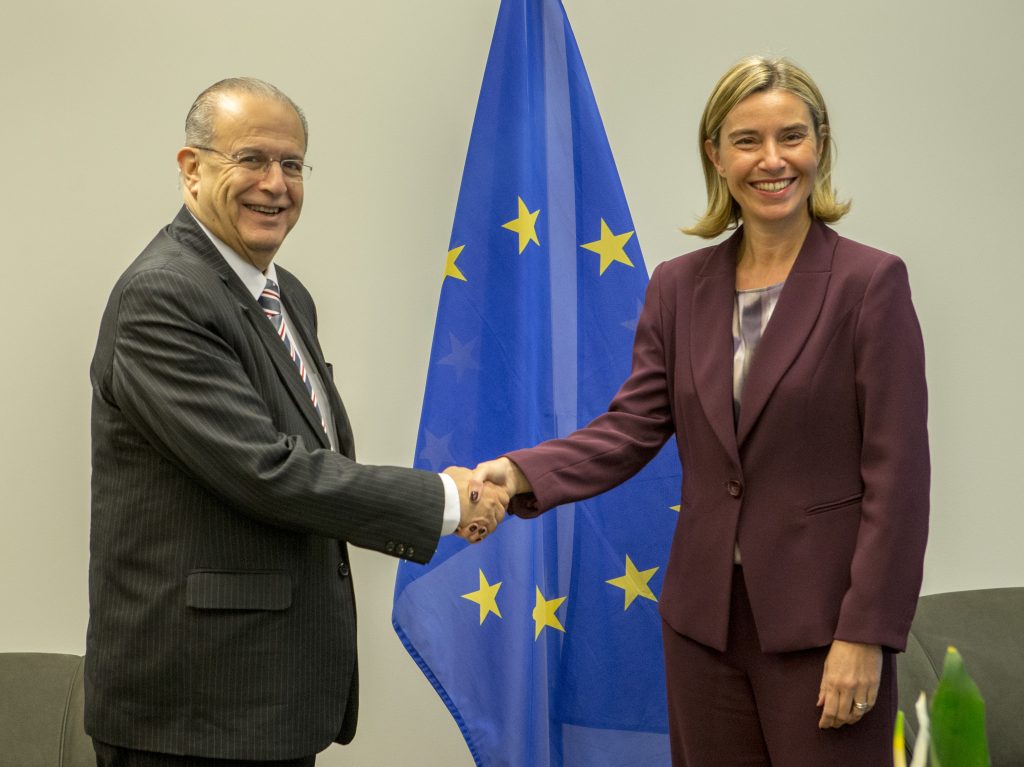 The Minister of Foreign Affairs, Mr Ioannis Kasoulides, participated in the EU Foreign Affairs Council (FAC), held Monday, 17 October 2016, in Luxembourg. Issues on the agenda include the ongoing developments in Syria, the EU Global Strategy on foreign and security policy, the migration crisis with special emphasis on its external dimension, as well as the EU-Tunisia relations.
As regards the ongoing developments in Syria, the Ministers of Foreign Affairs were briefed on the discussions in the meetings of Lausanne and London that took place in the weekend, and exchanged views on how the EU could play a more substantial role in the Syrian crisis. In this framework, thorough discussion was held with the UN Special Envoy for Syria, Mr Staffan De Mistura, and relevant Conclusions were adopted.
In his intervention, Minister Kasoulides repeated his support to the efforts of Mr De Mistura, stressing that an agreement to ceasefire in Halepi should be reached the soonest, and humanitarian aid should be urgently allowed in the country, followed by the processes for political transition in the country. Mr Kasoulides disagreed with imposing sanctions and supported the political path for resolving the crisis with patience. Also, Cyprus' Foreign Minister specially referred to the EU's role in addressing the humanitarian crisis, through directly promoting the initiative of High Representative Mogherini, and Commissioner Stylianides.
In his intervention during the debate for the EU-Tunisia relations, Mr Kasoulides stressed that the EU should support the Government of the country in its efforts to counter-terrorism and corruption, as well as to adopt economic measures, so that the country returns to growth and unemployment is decreased. In this framework, Minister Kasoulides underlined the importance of enhancing security and promoting stability both in Tunisia and the entire region of Northern Africa-Maghreb. The Minister of Foreign Affairs also stressed the need to develop cooperation between the EU and Egypt, a country that plays a key role in the region.
On the sidelines of the Council's deliberations, Foreign Minister Kasoulides had a bilateral meeting with Mrs Mogherini, with whom he discussed the situation in Syria, the ongoing developments on the Cyprus problem, as well as possible dates for Mrs Mogherini to visit Cyprus.
Today, the Minister of Foreign Affairs will represent Cyprus in the extraordinary Foreign Affairs Council for Trade, which will deal exclusively with the Comprehensive Economic and Trade Agreement with Canada (CETA). Then, Minister Kasoulides will participate in the EU General Affairs Council (GAC), during which the Ministers will conclude the preparations for the European Council on 20-21 October 2016. Ministers will also take note of the state of play of the mid-term review of the EU's Multiannual Budgetary Framework./IBNA
Photo: www.pio.gov.cy