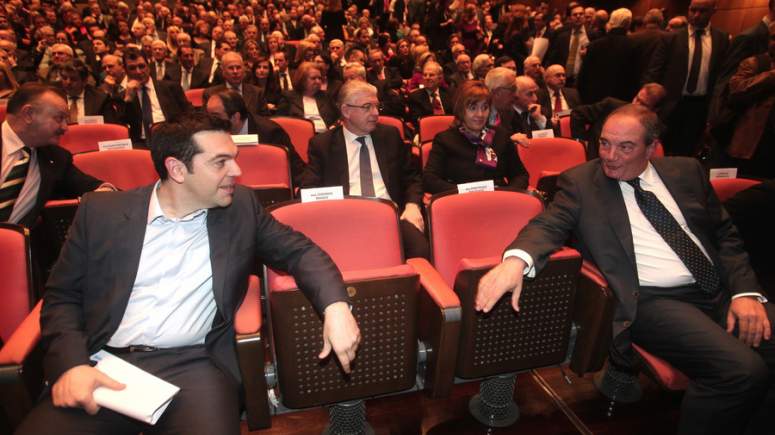 Kostas Karamanlis's decision to step out of his long-standing political inertia and to tour Thessaloniki in order to back Kyriakos Mitsotakis' bid to form a stand-alone government sparked the reaction of the SYRIZA government that leaked earlier letters of former Prime Minister and Petros Molyviatis to Skopje.
The letters Karamanlis and Molyviatis to George W. Bush and the leaders and officials of the EU and NATO prove beyond doubt that the then government, as well as the former one of Kostas Simitis, had accepted the term Macedonia-Skopia in their negotiations, without even a revision of the Constitution and, of course, without touching the issues of ethnicity and language.
This is how the longstanding understanding between Karamanlis and Tsipras, which had begun already in early 2013, at a friend's house meeting, came to an end. During these years, Mr. Karamanlis held a distinct attitude with regard to the aggressive tactics of Antonis Samaras and then of Kyriakos Mitsotakis towards SYRIZA. In fact, the "Karamanlis" wing within New Democracy was the least hostile if not friendly force to the SYRIZA administration, which since January 2015 measured only enemies either to its right or to its left.
Kostas Karamanlis, even after the outbreak of the reaction to Skopje with the great rallies in Thessaloniki and Athens, avoided identifying with the hard line of Samaras, which was later adopted by Kyriakos Mitsotakis, confined to simply defending the "legacy" of the veto in Bucharest -which however, was a veto on the accession of the then fYROM as Macedonia.
This long-term Tsipras-Karamanlis understanding may explain why the government did not publish the letters of Karamanlis and Molyviatis earlier, and more importantly why they did not use them during the censure motion tabled last June by ND on the occasion of the Prespa Agreement. But the prime minister reacted strongly after Kostas Karamanlis appeared in Thessaloniki, where he even criticized the fact that the Bucharest acquis was not used. This was the last straw for Alexis Tsipras who cauterized Karamanlis's stance, saying that he "spoke 15 minutes, 1.5 minutes for every year of silence". Tsipras went on to accuse the former PM of the 23 billion deficit his administration handed over at the last year of his governance in 2009.
The attack on Kostas Karamanlis is also aimed at approaching KINAL, which in addition to holding the Karamanlis administration accountable for the country's bankruptcy, also criticized Alexis Tsipras because until now he was limiting his attacks on George Papandreou and did not criticize the right-wing governance of the 2004-2009 period.
KINAL even spoke of the existence of a "karamanlism wing within SYRIZA", attributing there Alexis Tsipras' silence about Kostas Karamanlis and his accountability for the bankruptcy of the country. As Alexis Tsipras faces defeat in Sunday's elections, he opens up to PASOK's old voters and prepares for the next day. He does not want his opening to the broader left-center space to be obstructed by his "pro-karamanism"./ibna