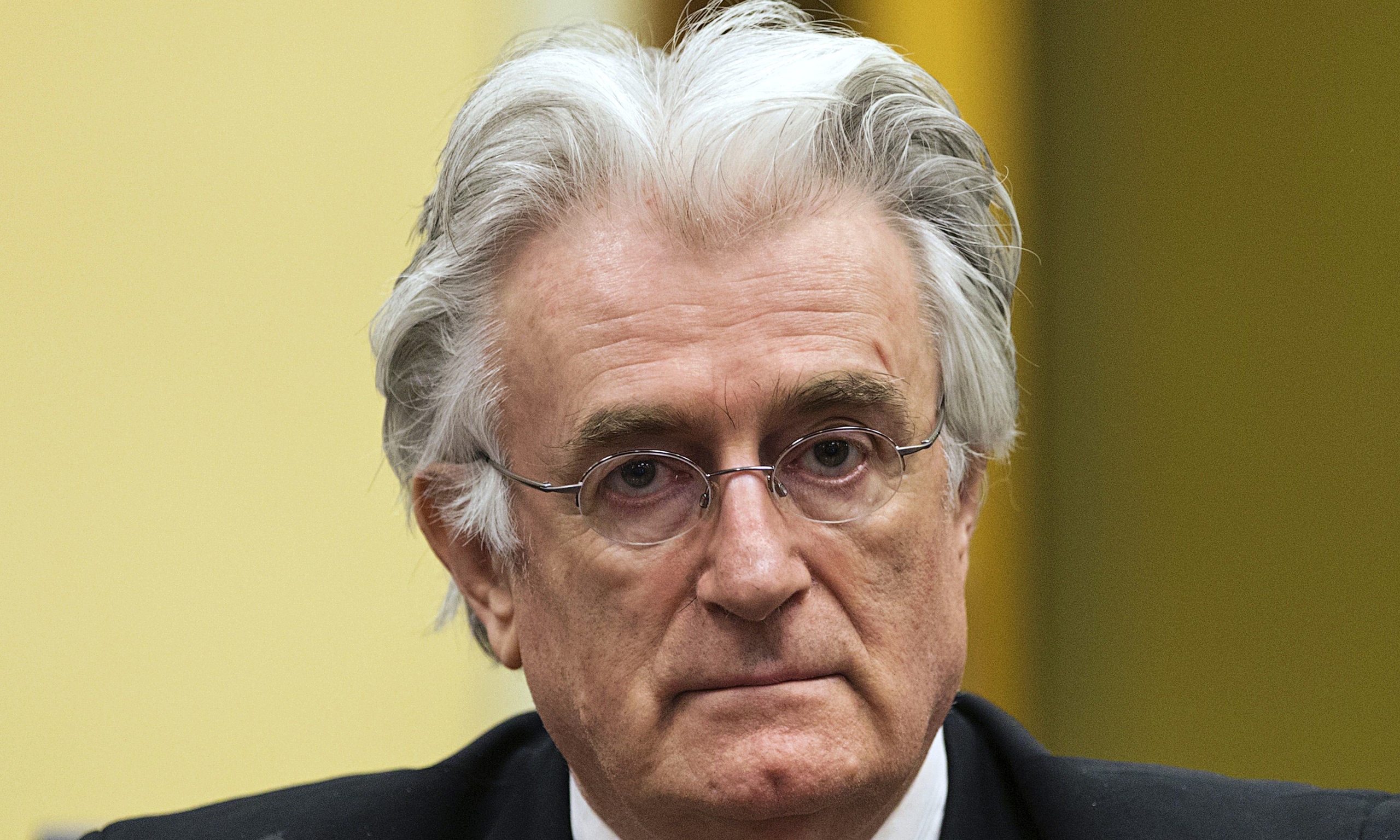 Sarajevo, March 24, 2016/Independent Balkan News Agency
By Mladen Dragojlovic
The International Criminal Tribunal for the former Yugoslavia sentenced ex Republic of Srpska president, Radovan Karadzic, to 40 years in prison because of war crimes committed by "command responsibility". The court concluded that there was no genocide in seven municipalities in RS but that this crime was committed in Srebrenica.
The sentence caused different reactions between various national groups in BiH since all of them had different expectations. Serbs were sure that the verdict was written before the trial begun. Bosniaks, on the other side, expected life long sentence for Karadzic. Reactions in RS were not euphoric and most of politicians think that this is just the first sentence and that Karadzic will appeal.
RS president, Milorad Dodik, said to the media that it is clear that verdict was the result of pressures of various international lobbies and earlier stereotypes about exceptional Serb guilt for war in BiH.
"For many cases in Hague Tribunal it is known that they are not based on the facts, but that they were motivated by political motives", Dodik said to media in Belgrade.
Several days before the verdict in many cities in RS citizens set posters to show support to Karadzic. For many of them, especially in Eastern RS, he is the "father of the RS" and the man who fought for the freedom of the Serb nation in the Balkans. Citizens of Vlasenica, Pale, Sokolac and other places in this part of BiH, commented that Karadzic never had to be transferred to Hague Tribunal.
"Bigger war crimes were committed by Bosniaks and their leader, Alija Izetbegovic. He left the mujahideens to come in BiH and slaughter Serb civilians. Nobody was sentenced for these crimes", a Vlasenica citizen told the media.
The same scene, with big billboards near roads supporting Karadzic, was in city of East Sarajevo. People in this city were under direct attack of forces of Republic BiH Army and remember that in several places they were under sniper fire from Sarajevo. At the same time, Serbs during war were accused for sniper fire on Sarajevo citizens and that was one of crimes which were in Karadzic indictment. Most of them agree that Karadzic wasn't givena fair trial in Hague.
Just a few kilometers away, in Sarajevo, citizens were awaiting to hear the sentence for, as they call him, "Serbian butcher" and "the biggest war criminal in the history of Bosnian people". Sarajevo citizens are especially sensitive of the war period, since they were under siege more than three years.
"He deserves to be sentenced to death, but it is not possible. On his soul are the deaths of the children of Sarajevo and many other citizens who were under siege, without water and food. People died of starvation because he sent the forces and tanks on hills over Sarajevo. We cannot forget or forgive that, Mirsad P., a Sarajevo citizen told the media.
International community High representative in BiH, Valentin Inzko, said in written statement that there is no reconciliation without truth and justice. He added that there is no healing without allowing the victims and the witnesses to voice the horrors they saw and experienced.
"In the words of former German President Richard von Weizsäcker, 'there is no such thing as the guilt or innocence of an entire nation. Guilt is, like innocence, not collective but personal". And so the wheels of justice must turn. Democratic societies agree on this essential point. With this in mind, this judgement should help us, and give us strength, to look truth in the eyes and to strengthen the culture of remembrance. Without truth and remembrance, there cannot be lasting reconciliation, Inzko stated.
The High Representative also called on all authorities in BiH, in line with their responsibility to cooperate with the ICTY, to refrain from resorting to political posturing and from distorting the importance of justice served. Twenty years after the war, politicians should be forward looking and focused on the Euro-Atlantic future of BiH.
"Those who have consciously chosen to glorify war criminals, and to relativise evil, have excluded themselves from humanity's most basic values. And in so doing they have disqualified themselves from the civilised world and have to bear the consequences of doing so, such as isolation from the rest of the civilised world", High Representative Inzko pointed out.