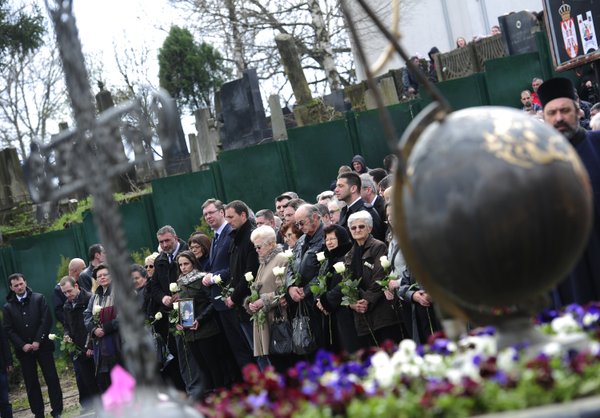 Belgrade, March 24, 2016/ Independent Balkan News Agency
By Milos Mitrovic
Serbia "cannot, must not and will not allow" using the verdict against Radovan Karadzic for political or any other attacks on Republic of Srpska (RS), Serbian Prime Minister Aleksandar Vucic said today. Serbia has the obligation to take care about its people beyond national boundaries, Vucic said at the ceremony (photo) marking the 17 anniversary of NATO aggression against former Federal Republic of Yugoslavia.
Karadzic, former RS President, was sentenced today on 40 years in prison for genocide and crimes against humanity during the 1992-95 war in Bosnia.
The Hague based International Criminal Tribunal for the former Yugoslavia found Karadzic guilty for Srebrenica massacre. His case is being seen as one of the most important war crimes trials since Nuremberg trials.
Vucic spoke before the verdict was issued. However, government will hold special session tomorrow with Karadzic sentence being the only item on the agenda.
"I warn those who think to use today's sentence against the former President of the Republic of Srpska for political or any other attack against the Republic of Srpska that Serbia, in accordance with the Dayton Agreement, cannot, must not and will not allow it", Serbian premier said in the town of Varvarin, where NATO has killed 11 civilians during 1999 bombing.
Serbia would remain with its people and protect its right to survive as well as the "right on survival and life" of the Republic of Srpska, Vucic said. "We are not posing threat to anyone, but we will not allow anyone to trample on Serbs because they are Serbs. We are not anyone's rag, we are proud, unsubmissive and unbowed people".
PM stressed that Serbia would do its utmost for "reconciliation and cooperation with the neighbors despite what has happened in the past".