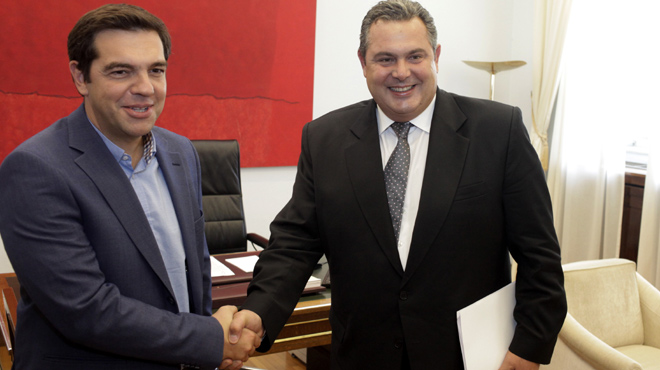 Athens, June 22, 2016/Independent Balkan News Agency
By Spiros Sideris
With the meeting between Alexis Tsipras and the president of Independent Greeks and government partner Panos Kammenos began the exploratory talks with the leaders of political parties, both for the change of the electoral law, and for the Constitutional Revision.
Alexis Tsipras, free from reviews and prerequisites, begins the implementation of part of his promises for changes at the state level, seeking broader consensus from the political forces.
After the change in climate for Greece in Europe, it is time to move to a stable electoral system "that would provide for proportional election" and to decisions that SYRIZA and ANEL have taken before they became government partners, said the president of ANEL and Defence minister, in his statements after the meeting with Alexis Tsipras at the Maximos Mansion, which focused on changes in the electoral law and the constitutional review.
Regarding the constitutional review, he mentioned the right to vote at 17, the election of MPs from the Diaspora, the direct election of the President of the Republic by the people, the abolition of the law on ministerial responsibility, the change of parliamentary immunity, ensuring a stable tax system, the ECA to remain in the jurisdiction of Justice, the establishment of the protection of national identity and the change of Article 28 par.2 of the Constitution for the protection of national sovereignty.
"The ANEL will agree with SYRIZA on a joint government proposal", he continued and hoped to find common ground with other political forces, except the New Democracy, as he said, the president of which has made certain statements.
In regard to the 3% threshold to enter the House, Kammenos said it should remain, while on the bonus of 50 seats for the first party he said they need to be reduced considerably.
"We agree to a more proportionate system. Probably for coalitions the bonus should be less than 50 seats", he said.
For the possibility that there won't be any seat bonus, P. Kammenos replied that the ANEL and SYRIZA proved that they make national reconciliation practice and are able to synthesize.
"This government has demonstrated it. It can also be done with other political actors. I do not understand why the main opposition reacts", he said.